Discussion Starter
•
#1
•
I received "Twister" in an e-mail from a rescue contact to cross post. I thought I remembered seeing him on here, but searched and couldn't find him.
"Twister" is currently at the Wayne County Humane Society in Wooster, OH which is a low-kill shelter. He is listed as a "mix" but looks pure-bred to me. He is also listed as 3 yrs old, but I think he looks like he's at least 5 or so.
Here is the e-mail from the rescue contact, most of which is taken from his shelter post information:
"This poor guy has been stuck at Wayne Co. HS. in Wooster, OH for a couple of weeks now. His description (as written by the shelter staff) is below. He is missing half of his tail (they aren't sure how). He was picked up as a stray. Can anyone rescue this nice guy? He is super friendly and great with other dogs. He is NEUTERED, has DHLPP, Bordatella, & has been wormed. He is ready to go to a new home! Contact is
[email protected]
. She is the rescue coordinator. Thanks!
Twister is one handsome German Shepherd. His intelligent is also that of a German Shepherd. Twister would likely be easy to train. He is friendly and loves affection! He can sit and shake for treats and is gentle when taking them. He is friendly toward dogs and mostly ignores cats. He doesn't seem very interested in toys and is relatively calm. Twister came to the shelter with an injury. We are not sure of the circumstances that caused this but he is missing a portion of his tail. Please don't let this deter you he is still a gorgeous German Shepherd. This great guy is also already neutered!! What a wonderful addition Twister would make to almost any family!!!"
I do not have any further information about Twister. If you'd like to know more about him or take him into your home or rescue, please contact the shelter at the phone number or e-mail address given below.
Wooster, OH is southwest of Akron, between Mansfield and Canton.
TWISTER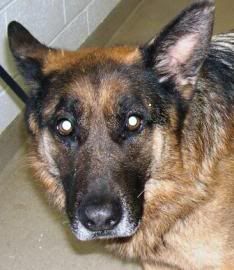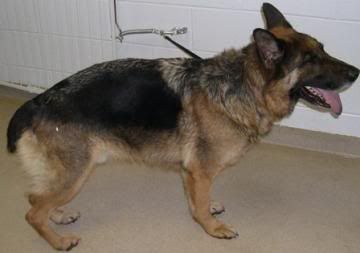 Adoptable Dogs | Wayne County Humane Society

Wayne County Humane Society
1161 Mechanicsburg Rd.,
Wooster, OH 44691
Phone: (330) 262-0152 • Fax: (330) 262-4590


[email protected]


Hours: Tue–Thu: 10am-5pm, Fri: 10am-4pm,
Sat: 9am-2pm, Sun–Mon: Closed