Discussion Starter
·
#1
·
I just wanted to share a (not so) short story about how I got my GSD and why she has been such an important part of my life in the short 5 months I've had her.
I am currently 20 years old and the past 4 years have been less than kind to me. I've always had trouble dealing with stress, dealing with problems and people. One thing that always made me feel better was driving the 20 minutes to the local animal shelter and visiting the dogs - The dogs were my therapy. After our family dog died when I was 7 my parents didn't want another, so this was my way of having a dog.
I'd visit the shelter several times a week to see and play with some of the dogs. The dogs there didn't care what was happening in my life, they didn't feel sorry for me or judge me, they just wanted someone to play with them and give them a little bit of love and I wanted the same. My parents realized how much the animal interaction helped me deal with everything that was going on with me, so after 2 years and many trips to the shelter, I was finally able to start looking for a dog of my own.
Now, as long as I can remember I have been completely in love with German Shepherds. After a lot of searching I was sad to realize that I just didn't have the money to spend $500+ on a puppy from a breeder. I spent several weeks checking every shelter in my town and all those surrounding it for a GSD. My efforts were fruitless and I eventually lost hope in finding one. I knew that I would fall in love with whatever dog I ended up with, so I started looking around for other breeds.
I found the most adorable large-breed mix puppy at a shelter and headed up to adopt her. When I arrived I said which puppy I was planning to adopt and they told me where to go to find the puppy. I was sent to the wrong holding area. By the time I realized the puppy was not where I was sent and found the correct place, a couple had just started the adoption process on her. I was heartbroken and left without my puppy.
When I came back home my mom opened her computer to show me this: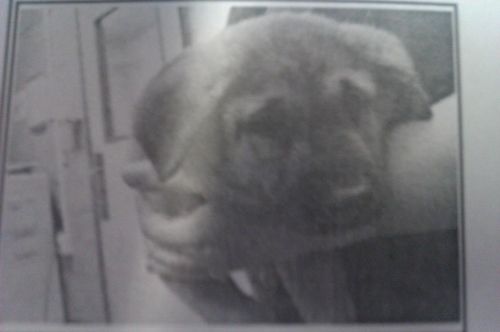 I rushed back to the same shelter, had someone show me to her cage - She was surrendered the night before with 5 other puppies and her mother - I saw her for about 5 seconds and immediately knew that she was the one. I wasted no time, grabbed her papers and rushed to adopt. After an hour of waiting to find out if I was going to leave heartbroken again (The previous owner was wanting to reclaim his litter. They had to call and ask if it was okay for me to adopt one of the puppies.) I finally had adopted my 2 month old GSD and brought her home the very next day.
I have had Mia now for 5 months and she has easily become my best friend, and has had a large impact on both my physical and mental health. I never expected to be able to own my own dog, let alone a GSD, and I am incredibly thankful to have this amazing breed in my life.
Thank you anyone who took the time to read.