Discussion Starter
·
#1
·
Vienna is a 4 yr old female German Shepherd Dog.
Missing Since: March 25, 2008
Area: Macedon, NY (Wayne County, between Rochester and Syracuse).
Description from her Mom:
Vienna is mostly tan with a black muzzle, ears and saddle. Medium hair and weighs about 80 lbs. She has a tattoo in her left ear and was wearing a black leather collar. She's an absolute beauty!!
<span style="color: #CC0000">
Vienna's Mom's heart is heartbroken with out her!!
</span>
IF ANYONE HAS ANY INFORMATION ABOUT VIENNA PLEASE CALL THE NUMBER ON THE ATTACHED FLYER OR EMAIL BRIGHTSTAR VOLUNTEERS KAREN at

[email protected]

or Darcy at

[email protected]

. Thank you!!
If anyone knows a great place to post it, please do. It's so nice to know people are out looking for her!!!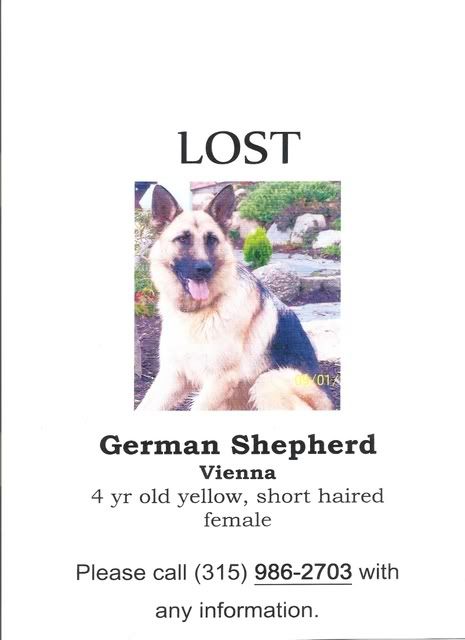 Update 4/14/08:
Got an email from the owners of Vienna. There was a sighting of Vienna about 10 miles away from Vienna's home.
She was sighted on Walworth Rd. in Wayne County, near Palmyra (and the Old Yellow Mill Cafe on Rt 31.) North side of the Canal.
You have given Vienna's parents much hope - They keep going out looking for her. She is very scared and timid.