Discussion Starter
·
#1
·
This forum has been quiet lately. Here is something I invented that thought I would share with other dog handlers because it has been very useful to me.
I trained my GSD to indicate an airscent find by tugging on a firehose toy attached to my side. My invention is a positioning device for the tug toy. This was partly inspired by an unfortunate accident which I mentioned here:
http://www.germanshepherds.com/forum/ubb...true#Post622143
It allows me to attach the toy to my side and orient it however I wish. It consists of a length of plastic modular hose, with a bungie cord inside that connects to the firehose. (Note that although I call the firehose a toy, I do not use it as a reward object. Tugging on the firehose is just one link in the chain of events which leads to playing with our reward toy.)
I have been extremely pleased with how well this works for us. I think it is much more natural for my dog to tug this than when I had the toy just hanging loose by my side. For one thing, I like to orient it almost horizontally so that it is natural for my dog to grab it without twisting his head. It also serves as a flag that signals that we are working. I raise the flag at the same time as I say "find" as part of our starting ritual. From the dog's point of view, I'm sure he can easily see the flag on my silhouette from a distance. When he comes running back and tugs, the bungie can extend so there is no hard jolt to a stop. And when he lets go, it retracts back in. Enough talk, here are some pics:
These are the parts: a firehose toy, a length of 1/2" ID modular hose, a bungie cord with a plastic ball on the end, and a short length of vinyl tubing.
To assemble it, I first pushed the vinyl tubing onto the end of the modular hose. I wanted this because I was paranoid that my dog might accidentally bite down on the plastic and it cushions it somewhat. I cut a slot in the end of the vinyl so the firehose sets into it securely without twisting. Next I inserted the bungie cord into the modular hose, and then threaded the end of the cord into a hole that I drilled in the firehose. I secured the bungie cord with zip ties because I didn't want to use any metal parts. Here it is assembled:
I secured the assembly to webbing on the waist belt of my backpack, also using plastic zip ties. The next picture shows it in use on a recent airscent training: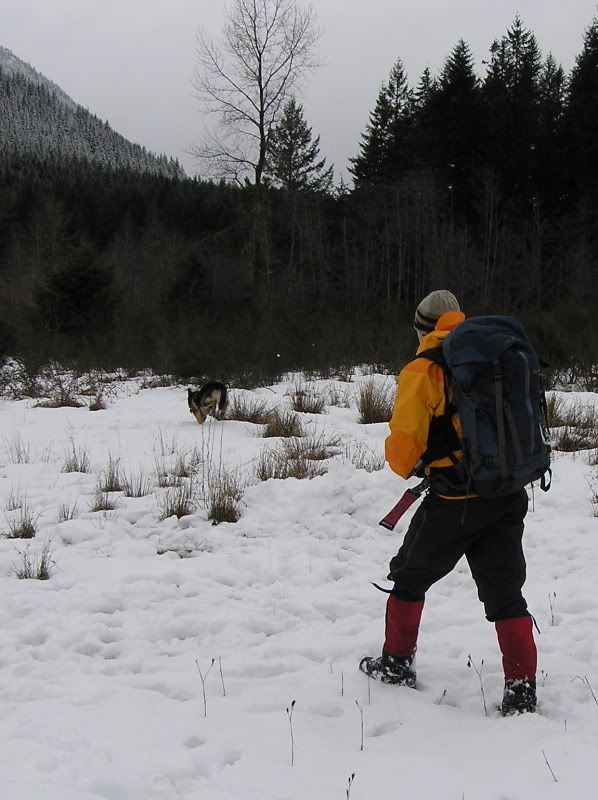 I have since attached the device to my radio harness instead of my backpack. This allows me to switch backpacks without reattaching. My custom radio harness could be the subject of another post if anyone is interested. I was just so unsatisfied with my Conterra harness.