Discussion Starter
·
#1
·
The Village of East Aurora lies in the eastern half of the Town of Aurora. It is southeast of Buffalo, New York.
Tooley went missing on 2/22/08 and this is from her mom and dad.
"Thank you for your interest. I will gladly accept any help possible. We are very hopeful that we will find our "Tooley girl". When I see a picture that I am unsure of characteristics just by the angle or whatever I just ask for more details anyways. We will try anything!
We lost out girl Tooley on Feb. 22. We were actually in Florida on vacation when it happened. My father-in law was walking the dogs (he has a male gsd) when a small herd of deer ran by and the dogs took off in tow. They were not on leashes. We did get his dog back the following evening about 4 miles from home (my husband flew home from vaca.). People in the neighborhood said they saw the 2 dogs together the night before. So 2-22 was the last sighting. It is just so odd that they got separated. Anyways her birthday is July 4, 2002. so she is about 5.5 yrs. old, not altered, no chip or tattoo, she did have on a red invisible fence collar at the time. She is not registered and I am not sure where she came from.
Thank you for the website, I was not aware of this one, but will sign up and put her on.
I attached the proof of the newspaper ad we ran for several weeks, I would appreciate distribution.
Like I mentioned, I believe now that someone may have her. We plan to keep an eye on gsd puppies for sale come july or aug. when she would have them if that is t he case and hope to find her that way.
Thank you again for all your help and concerns."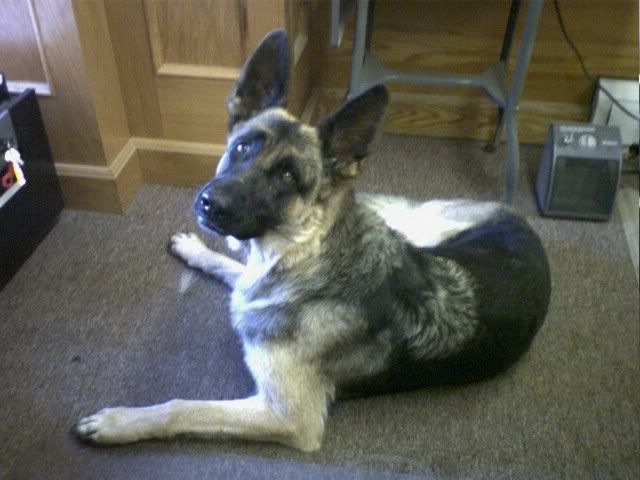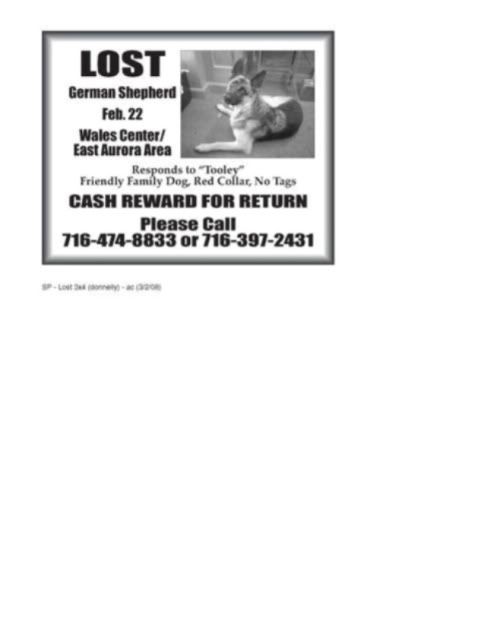 I also have an email address for this family, please contact me if you think you might have inforamtion on Tooley.
Thank you.