Discussion Starter
•
#1
•
and I brought him here..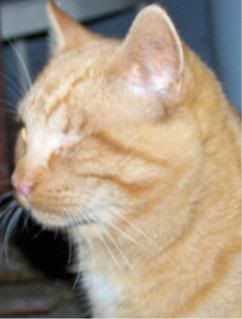 So, this is Captain.. I found him in March as a young kitten near my old house.. he had something wrong with his eye, I think it was called prolapsed or profused or something, but basically his eye was really really infected and it looked terribly icky, it was pretty much hanging out and covered with guts looking stuff. So I took him to the vets and he ended up having to get his eye removed.. but I knew I couldnt keep him because of the dogs.. so I gave him to Dans family after he recovered , but now they pretty much have a colony of cats..none spayed or neutered, and despite anything I tell them or suggest they are unwilling to co-operate. They are dropping the cats off places and giving them away to anyone who wants.
So, now he is in my basement.
I took him back with ZERO intentions of keeping him, it's just not fair to have to keep him in the basement.
But now I really like the lil guy, Ive always wanted a cat and thought it would be atleast worth a TRY to see if things could work... if not I will take him to work (vets) and we can find him a home. But he is such a loving lil bugger.. comes when ya call him, follows me around, loves being petted.
Ive read several different scenarios as far as getting dogs and cats accustomated to eachother, I know it has to happen slowly, but I have a few concerns which makes me think it prob won't work out.
Well I guess the biggest concern is Layla, no matter how ya look at it.
I walked the dogs passed Captain in his carrier just to see what their reactions would be.
Bixler was excited, crying, and barked when the cat hissed but really not too bad, he only barked once and it was not an aggressive bark, and he backed away, which is good.
Hexe's tail was wagging a mile a minute and she was right up close sniffing and then barked like she wanted to play
Layla.. totally freaked out.
Which, is okay, she is blind, first time shes ever been around a cat, she probably has no idea what the heck it is. She did quite down once we backed away a bit.
Captain was a really good sport and after the meeting of the dogs was right back to purring and rubbing up on me.
So.. what would in my mind be ideal is for the dogs to smell the cat on me, and in the basement, and then I could put the dogs in the basement and bring kitty upstairs for a while, and then just slowly test their reactions again walking past him on a leash of course.
I hope if Layla sees the other dogs' reactions she will be okay, that usually is how it works for her with other things.
My biggest concern is, Bixler and Layla stay together in a 6x6 kennel in the basement. First off, Layla has escaped from it in the past, a handful of times, I know she can get out if she wants. Second, Im afraid that if the cat walks by them in the kennel and Layla starts freaking out it will cause Bix and Lay to get into a squabble... Ive seen Bixler correct Layla before for doing such and she goes back at him.. nothing has ever really happened because Im always there, but who knows with me not being around.
Layla did surprise me with the puppy though... she barked at her at first, but as soon as they were loose together she was fine, and has loved her ever since, but cats are different Im sure.
Even if I leave Captain upstairs, or shut in a bedroom, Layla can pretty much open every door in the house. She may be blind but she is smart. So that is my immediete concern for Monday when Dan and I will both be gone and the dogs will need to be kenneled. I have a few ideas but need to test them and see if Layla can out smart me. If I cant figure out something that I am 100% sure Layla will not escape from Ill have to take him to work with me Monday. I dont think anything is 100% safe from Layla though. You cant crate cats can you??? lol.
So.......... please share what worked for your dogs/cats! I KNOW this will take a long time. My basement is pretty big, and warm, but the sooner he could be up here with us the better.. I do feel bad. Any good websites? Articles>?