I noticed some here didn't know what these were... It's mostly bulldog people who use them. But all breeds, especially those with prey and toy drive, can really enjoy them.
The Springpole...
Can be made easily... If you want to go cheap, a couple of good springs and rope hung over a tree branch is all you need. Or, you can build a frame and be more professional about building it... It can be low enough that the dog's feet are on the ground at all times, or high enough that to dog has to jump and hang from it, it depends on what the DOG likes.
It's really best NOT to work more than one dog on a SP at a time, if one bites the other by accident you could have a fight, or an injured dog...
Here's my CHEAP version being used, it was basically a rubber bungee, very well secured so it couldn't snap and hurt her, attacked to rope and a tree branch.
You can see how it bounces back, and makes it more fun for the dog. Sorry for the terrible video.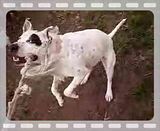 Springpoles are meant to be hung vertically, but I attach J's very cheap version to a vertical pole sometimes, making it horizontal for him to tug on.
The Flirtpole...
Basically a pole, some length of rope, and a toy.
You can make on with PVC pipe, a light broom handle, anything durable and light, anywhere from 3'-6' long, depending on the room you have and your preferences.
You attach the rope well to the end of your chosen pole, you can drill a hole to slip the rope through if there is not existing hole.
On the other end of the rope, tie something the dog can grab and chase. Cow hide, old rags, their favorite soft toy. It has to be soft, if there is something hard it could hurt the dog by bouncing up and hitting their face, or busting lips when they go to grab it.
Cow hide is a preference... It's great for dogs with high prey drive, and it lasts for a while...
Here is J, many months ago, as a pup using the Flirt with my niece (who was obviously too short)
you can read a lot more here, on construction, how to use ect.
Official Pit Bull Site of Diane Jessup
They are both GREAT for people with small yards... Can't play a good game of fetch in a 20'/20' backyard.