Discussion Starter
·
#1
·
I didn't post Solo's Happy Birthday in January, since she is not a GSD, but I should have, since we all welcome all great dogs here.
Solo was a shelter dog and she has shared my life since she was only 3 months old. She was 15 years young in January.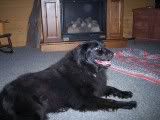 Solo has very few white hairs, she takes a daily supplement to help her back legs and back and she pulled through two liver failures a couple of years ago (reaction to rimidyl.)
I trimmed her last night and she looks like a pup with her shiny black hair.
Solo is my last dog who would remember my late son. Seiko and Sophie have already passed at old ages and I feel Brian welcomed them over the bridge.
Here's to Solo - the mellow girl. Just a few more years, please??