Discussion Starter
·
#1
·
Just days before Easter on March 18, SC Senator Kent M. Williams called animal control and had his very pregnant German Shepherd picked up and taken to the shelter to be killed.
This is the kind of person we elect to lead?? A person who takes no responsibility as a pet owner, cared so little that he couldn't be bothered to have this sweet girl spayed, then when she got pregnant, he callously and coldly just dumped her! What an atrocity!!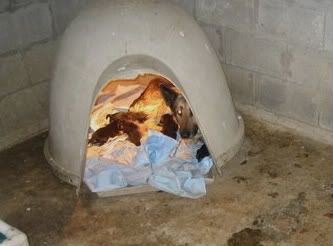 On Easter Sunday this beautiful girl had a litter of eight puppies at the Marion County Animal Shelter. Luckily she and her puppies were pulled from the shelter and placed in a foster home. They were not killed and now all will have a chance at a much better life.
I am forwarding a request to write to the Senator and to local papers to vent your outrage over this despicable incident!
Following is the Senator's contact information, contact information for local media and a sample letter that you can use. Please, get the word out and let people know. Flood Williams' office and the media with letters, calls and emails!
The Senator's contact information:
Senator Kent M. Williams
District 30 - Dillon, Florence, Marion & Marlboro Cos.
Contact Address:
(H) 4205 Stirk Place, Marion, 29571
Bus. (843) 423-3904 Home (843) 362-0307
(C) 602 Gressette Bldg., Columbia, 29201
Bus. (803) 212-6008
E-Mail Address:
[email protected]
SOURCE