Discussion Starter
·
#1
·
Please cross-post!
<span style="color: #FF0000">This GSD can be euthanized at 8:00 am on July 17th if a rescue can't take it before then. </span> Anyone who can help must call Animal Control before 5:00 on July 16th to get a hold on the dog so it won't be gassed the next morning. They can contact Animal Control at 704-922-8677, take option 4, and reference Tag #4607
I will be out of the office beginning this Friday, July 18th, and will be gone the following week. I will not have access to email during this time. Please check the Gaston County Animal Control website during this time to see if any other GSD's come into the shelter. Any GSD rescue group can pull thru the ALGC for no adoption fee for any pets marked as "others".
The website for Gaston County Animal Control is:
http://www.co.gaston.nc.us/AnimalControl/PetAdoption.htm
Click where it says to view adoptable pets… Pets marked as "others" are in the non-adopts and can only be pulled by rescue groups. Please note the "release date"… this is the date that "others" will be euthanized.. you must call AC and get a hold on them BEFORE the release date or they will be euthanized that morning before AC opens to the public.
If you need to reach me you can call 704-678-6639.
Thanks for any help you can give!
Tag# 4607
Type DOG
Sex MALE
Breed
GERMAN SHEPHERD
Color
BLACK/GRAY
Cage #M8
Age 4YRS
Release Date 07/17/2008
OTHERS
I do not yet know why this boy is in the Others Section
Admitted Date
07/11/2008
Area Pickup: LINWOOD RD, GASTONIA
Remarks: POSSIBLE PURE BRED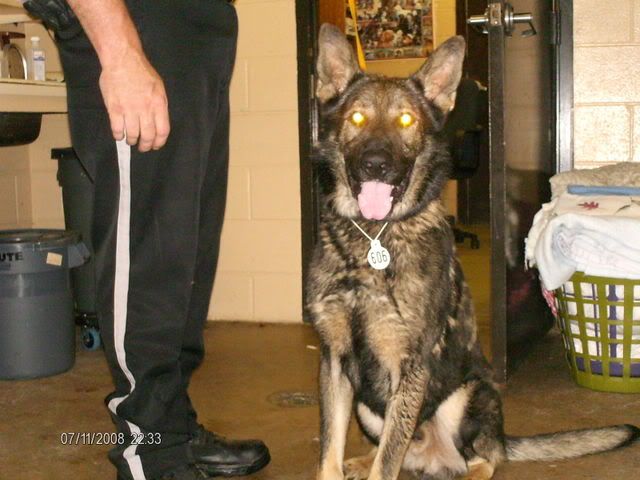 <span style="color: #CC0000">
PLEASE NOTE THERE IS NO PULL FEE FOR OTHERS GOING TO RESCUE, THERE IS ALSO NO VETTING/SHOTS GIVEN AT THIS SHELTER. THE DOG WOULD NEED TO BE IMMEDIATELY TAKEN TO A VET.
</span>
Please note: This shelter has had recent parvo exposure - confirmed case in a young pup that went to rescue last week. This boy is an adult, but the sooner he gets out the better.
<span style="color: #FF0000">
THIS IS A GASSING SHELTER
</span>