Discussion Starter
·
#1
·
She only has until tonight. Don't have any other info, looks PB with soft ears to me.......
~~~~~~
These very adorable dogs are scheduled to die this Thurs p.m., Feb. 21 at the high-kill Murray County Shelter in Chatsworth , GA (just north of Atlanta and just south of Chattanooga , TN )! Please help them live!!
NOTE: The pups must have a rescue lined up ASAP, but can stay at the shelter a couple days longer if needed. Free transport to Atlanta provided. + transport to the NE available
021908 001 - Pretty 11-mo-old shepherd mix girl is friendly and nice. She does great w/ people and other dogs. She is a great girl.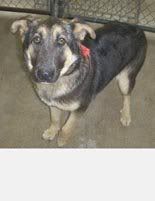 Please e-mail or call ASAP as these adoptable pups are schedule to die this Thurs p.m., Feb. 21. Your rescue help is very much appreciated!
Lisa Hester
[email protected]
770-441-0329
Jamie Sprague
[email protected]
404-320-7467
Pauline Davis
[email protected]
c: 706-463-2194
http://www.petfinder.com/shelters/GA155.html