http://www.germanshepherds.com/forum/ubbthreads.php?ubb=showflat&Number=153716&page=1#Post153716
The articles are the most important part.
Interesting that the mom does the muzzle clamp-how often does that happen? I am also guessing it happens when the puppy is at that overtired stage of obnoxiousness? Not when they are playing.
What I am getting at is that the mom probably isn't doing this every time the puppy bites and that they do let them play bite. And they don't do it harshly it's more of a gentle move than what we think (even though it looks like they are eating the puppy). I am not arguing with what you are saying you see, but trying to point out that from what I have seen there is a build up before they get to that level of correction.
I think dogs do things way better than we do.
I have a non-related pack that has raised puppies and they are very tolerant. It takes a lot for a puppy to earn a muzzle grab. What they DO do is give the puppy a tug item or get up and ignore them. If the puppy does nail them for a yelp, it is combined with ignoring. And it is purposeful ignoring. The puppy knows it is being ignored.
Don't discount the power of "the Look" (but don't use it to scare the puppy of course!)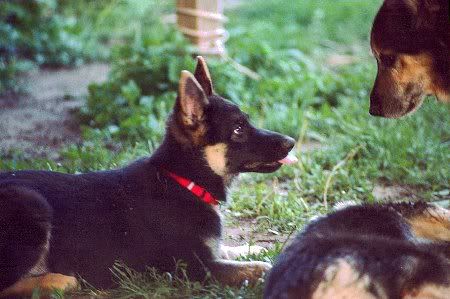 This little guy was raised by humans prior to me getting him at about 8 weeks. He had no bite inhibition-I did nothing-and he ended up with a soft mouth and good inhibition thanks to my dogs. See the other foster dog pulling back-after that she got up and walked away and would not play with him. It killed him.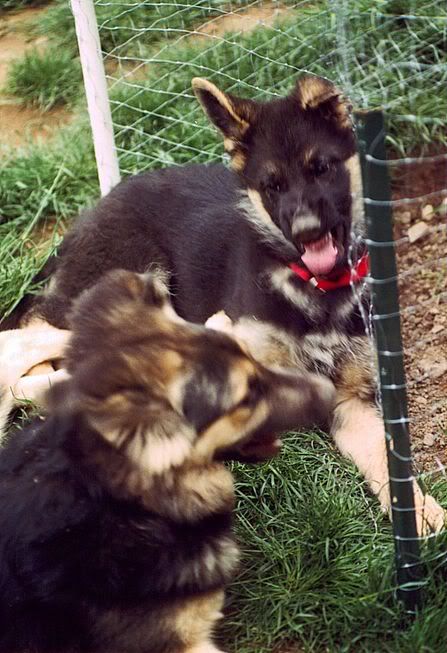 Find the puppy in the pile-learning how hard to bite in play: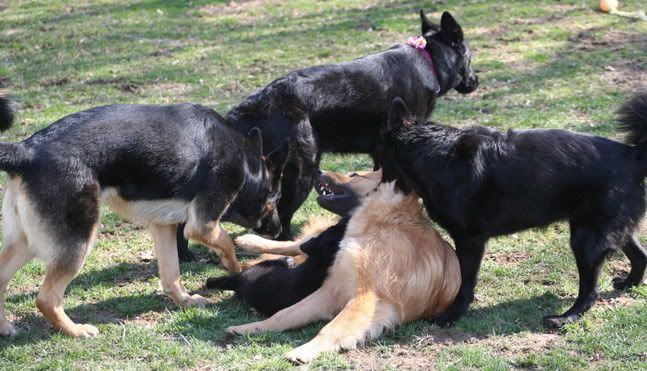 Oh-we think he's so cute-and he's learning how to approach appropriately: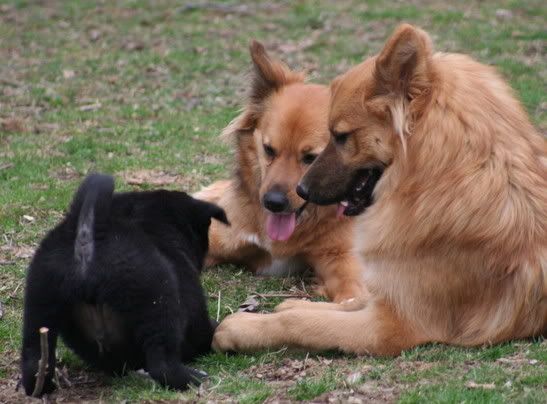 Cut to a little bit later-okay, junior, we are almost done here-we went in because he was getting tired and she was starting to wish she knew how to get him in his crate (which is another tool-not using as punishment but a nice relaxing time out with an ice cube or something enjoyable):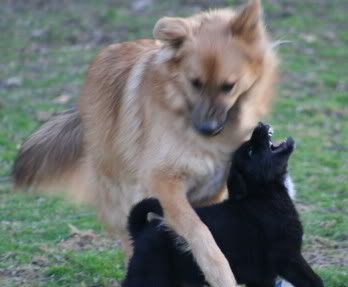 Hope you don't mind-but I think it is interesting to watch how adult, non-related dogs communicate to puppies.