Discussion Starter
·
#1
·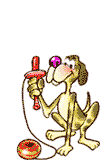 I was on the fence about using a prong collar with my 5-month puppy, Cassie. I had used a prong collar with my prior dog, but I was going to try NOT to use it with her. We started an obedience class this morning and they gave us a prong collar, which Cassie wore during class. She received a couple of collar snaps, that prompted a couple of yelps from Cassie. (heeling exercise on a long lead)

When we got home from class, Cassie and I went to my backyard. I thought I'd play with her and perhaps try to get in some weeding again (without her biting me). Cassie started aggressively biting/mouthing my arms again (in a playful manner), as I tried to weed. So, I put the prong collar on her, with a short leash handle. I tugged it a couple of times, while saying "No - Leave It". Then, I discontinued tugging the collar and just used the command, with a treat when she complied. Wow, I really got good results!

Yay! I think I'm on the road to be able to weed and play with Cassie at the same time. Looks like brief use of the prong collar (negative action) helped set the stage for positive reinforcement to take over. I was getting no where before and all previous attempts to teach bite inhibition failed when she is in a high-energy state. I'm eager to reduce the number of bruises, punctures and scrapes on my hands, fingers and arms.

Just sharing. I know that dogs respond differently to various training methods. I wished all the offerings of toys, chews and just positive reinforcement had worked on it's own.