Discussion Starter
·
#1
·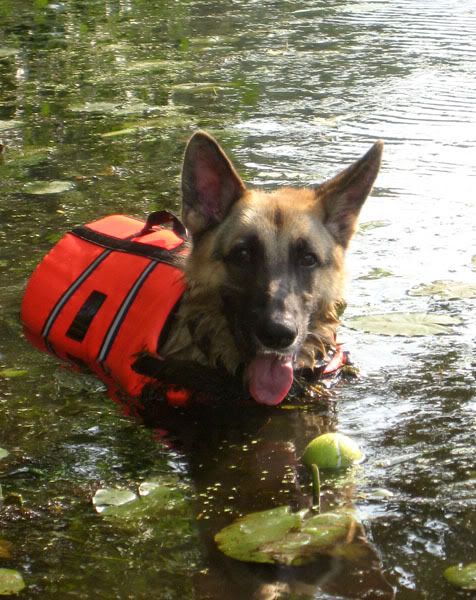 Ozy, August 2008
Ozy lost his battle with his cancer (multiple spinal cord tumors) on January 3rd. He was almost 3.5 y. He was diagnosed in oct of 2007, and we had one wonderful year with him. Though he lost his hind-end function soon after diagnosis, he did great in a cart, and we managed to provide him with a great quality of life. From his side of things, he seemed quite happy … he had us, his "sister" Kali, and his faithful cats. We went swimming once a week, and plenty of long walks and ball play. Unfortunately, despite our best efforts, he developed two more tumors and he lost more functionality and by Christmas he was unable to walk or support any of his weight. When he started to show other symptoms indicative of a third tumor, we knew that his time had come.
So… we made that hard decision, and we miss him. But I want to tell all of you out there that are struggling with this, it was worth it. We did radiation, chemo, and we got that year, and all of us enjoyed our time. In addition, I learned a lot about my relationship with animals, and the whole experience made me a better dog owner. Ozy will be with me for the rest of my life, not because of how he died, but how he lived. How he took it all in stride and managed, despite everything, to maintain his love of life, and of us.
Ozy was named for the poem, Ozymandius, by Percy Bysshe Shelley. Many read this poem as a reminder of the transience of life (the song "Dust in the Wind" (Kansas) was based on this poem). However, I cannot think of it the other way, that despite the ages battering, still the monument remained. Somehow, it seems sort of fitting now that our Ozymandius shared this name. Despite the ravages of cancer, and the loss of functionality, still he remained Ozy. We will miss him.
Ozymandius,
by Percy Bysshe Shelley
I met a traveler from an antique land
Who said: "Two vast and trunkless legs of stone
Stand in the desert... Near them, on the sand,
Half sunk a shattered visage lies, whose frown,
And wrinkled lip, and sneer of cold command,
Tell that its sculptor well those passions read
Which yet survive, stamped on these lifeless things,
The hand that mocked them and the heart that fed;
And on the pedestal these words appear:
My name is Ozymandius, King of Kings,
Look on my works, ye Mighty, and despair!
Nothing beside remains. Round the decay
Of that colossal wreck, boundless and bare
The lone and level sands stretch far away.