So I bought a heavy duty 10x10 kennel for Diesel for during the day while I am at work, its better than him being confined in a crate in the house all day. I have set him up pretty well I think...
Its this one Heavy Duty: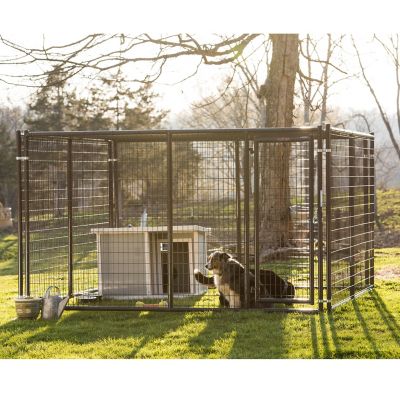 I covered it with a 10x10 easy up style canopy to give him shade / shelter, and put tarps over 1.5 sides of it to keep any rain off it as well. I put down rubber mats in the bottom to prevent mud / digging under it and to make clean up easy (just scoop and spray it off with hose, scrub it down with cleaner once a week)
Here it is in the background of this picture:
My frustration is coming in that when he poops or pee's in there I come home and he is covered in it! He poops in the middle generally but he still manages to be covered in it. People who have outdoor kennels what do you do / use to help keep your dogs clean, it seems like before I put the mats down it was not so bad, but I dont want a mud pit in there and cleaning up the grass successfully when he goes can be challenging.
What is everyone else doing? :help: I think both he and I are about sick of daily hose baths
** Edit the torn tarp is not from him chewing it is from me not using a weedwacker very carefully and hitting the tarp