Discussion Starter
•
#1
•
I took Odin with me to a local pet expo yesterday where Shorty Rossi (Pit Boss) was a guest and was taking pictures with people in exchange for donations to pitbull rescue. The line was insanely long, and i've never seen such a large gathering of intact pitbulls (and just outright terrible BYBs).. I think most of them missed the entire point of what this man does. :crazy:
I've never been so proud of my dog for his behavior, we waited about 2 hours in line and not once did he behave badly. He had all kinds of kids and people coming up to pet him and he had no problem walking up to people, when someone crouched down to pet him he'd even lick them while wagging his tail. We even had people taking pictures of him because they were so impressed by how nonchalant he was with all the chaos going on around us. :laugh:
There were a lot of people walking their dogs in front of us, behind us, and at one point even over Odin as he was laying on the floor. After a while this is how Odin was waiting in line: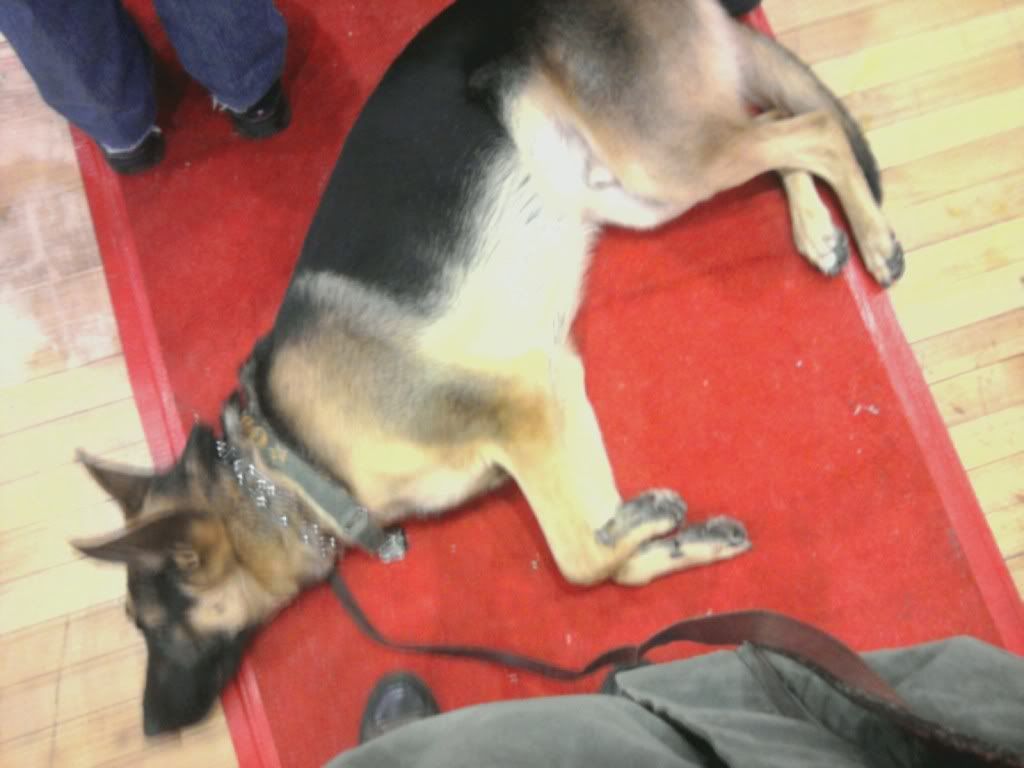 Some kid accidentally stepped on his tail and all he did was lift his head, accepted an apology pet and went back to lounging. The attention hog even got 5 minutes of belly rubs from an elderly lady that was waiting in line with her family.
It was so nice to see the training and socialization really show, we got a lot of compliments not only on how handsome he was but how well behaved and quiet he has in such a huge crowd of people, even when a few not so friendly dogs would drag their owners over, barking in his face. It's really making me consider going past the CGC and trying for therapy dog certification.
He may be a booger sometimes but at least he behaves well in public. :wub: