Discussion Starter
·
#1
·
Well, its confirmed, I have two herders on my hands
Today both of my dogs got the chance to work some sheep. It was more or less an instinct test for both, but since I plan to pursue with Tilden, we focused on him a bit more and she let him have a couple more works than usual.
Round 1 (Tilden)
He was VERY eager to get in the pen, the trainer and myself were very excited by this... that is until he ran to the sheep, sniffed them for a half sec, then decided that her Border Collies in the next pen were more exciting and went over to greet them. She continued trying to get him interested in the sheep but he wanted to check out the scenery, "wave" to Gia and I
, admire the trees and "Oh, you mean I'm supposed to chase those things???"
The trainer said that he seemed very young and distracted which may change in time. Which brings us to...
Round 2 (Gia)
She's much more focused and driven than Tilden in general, and after sitting in the sidelines nearly gave her an anxiety attack, we figured maybe she'd get Tilden more amp'd. (it worked). Gia charged the sheep as soon as she got in... barking, nipping, circling, etc. The trainer described her style as "confident and aggressive. she prefers to just get in there and get the sheep moving immediately, then figure out exactly where and how to move them where she wants them to go" You'd never know she was 9, or that she had HD. I was very pleased.
Round 3 (Tilden)
This time he couldnt wait to get back in, but he actually went for the sheep instead of the dogs, trees, birds, etc. He worked alot from the outside, very different from Gia who got right in the middle. Based on his second performance the trainer said that he looked very promising and that she'd love to train and watch him grow. "I love how quiet and polite he is, almost as if he's asking the sheep to
move please
. This is unusual for a GSD. He's also a
Thinker
, thats a must" He'd also benefit learning along side a trained dog.
Needless to say, we had a ball and I was ready to buy a farm and sheep after leaving there.
I snapped a couple photos. nothing great because the lighting was horrible and my camera wasnt on the correct setting for action shots...
Tilden, running along the creek before our lesson.
Gia, glued to the sheep.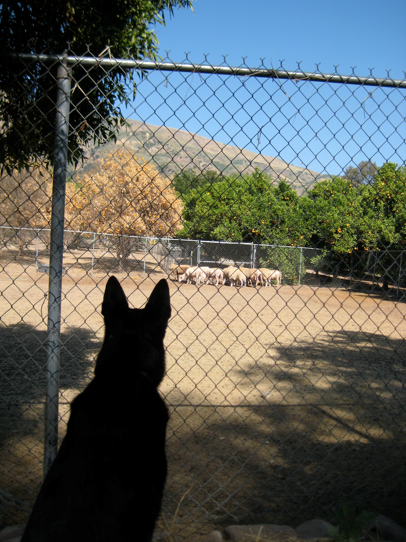 Lamb chops for dinner!!!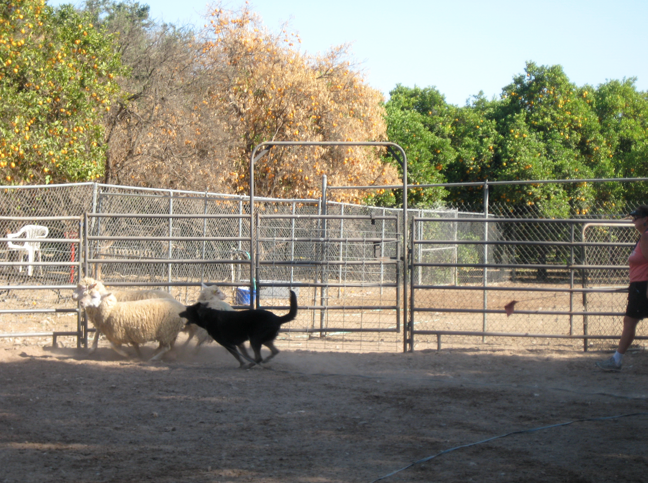 Gia, slowing down once she got the ladies where she wanted.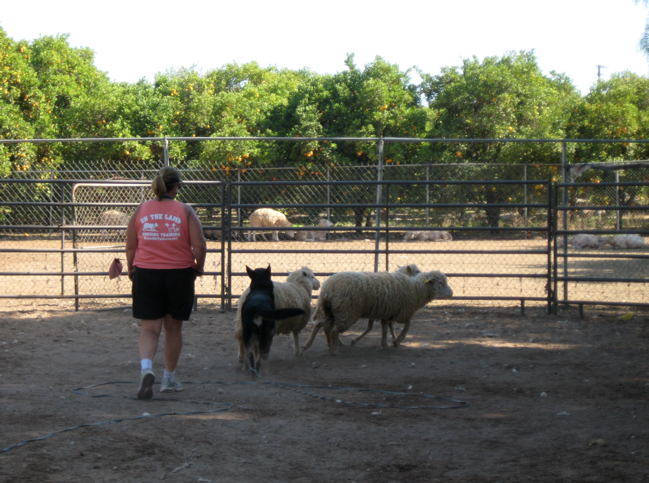 I love this shot of Tilden!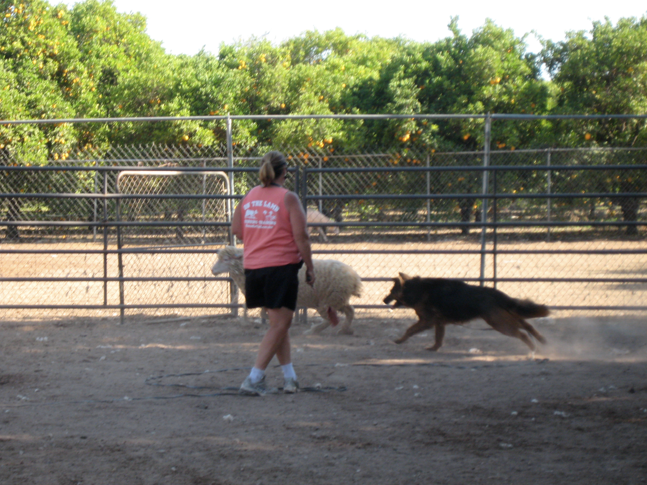 Tilden, walking the old girls home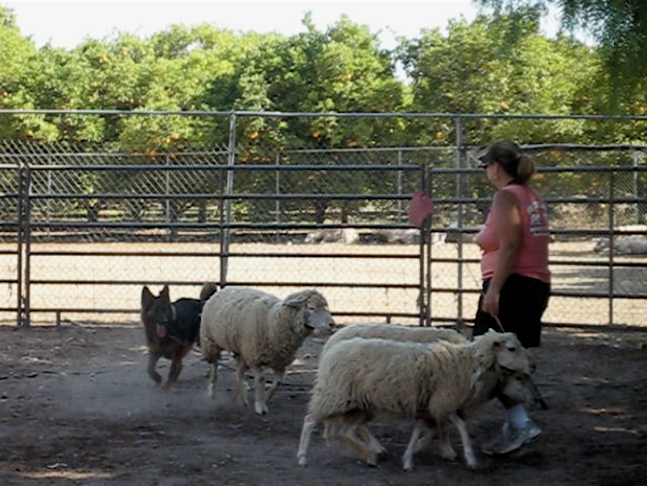 Will they sleep well after this? heck no, they're running around the backyard with my cousins dog right now. Where oh where does the energy come from?