Every time I leave my room and head down to the other part of the house Koda thinks it's time for a walk. There are no exceptions. Sometimes he's a little more rambunctious than other times, but he generally tries to rush past me out the door, looks back a few times to make sure I'm coming, then does a running leap into the family room. If he realizes that it's not time for a walk, he tries to play it off like...
"Oh..Um..I was really excited about this toy. Yeah, that's what it was.."
, then pounces on one of them.
I decided it was time to get it on video because it's cute/funny...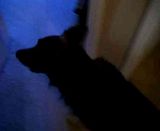 *Edit to add - It's so hard to believe he's the same dog who came to me with Heartworm. Before the treatment I would throw a ball for him in the yard and after 3 or 4 times of going to get it, he's just lie down and pant, he couldn't go anymore. Now he seems so happy and energetic, you can see just how much better he feels.