Hello!
My name is Matt, I'm 22 and from South Carolina. I am an active duty Army Combat Medic, and have been in for over 4 years active and 1 national guard while in high school.
In April 2012, I was involved in a drunk driver hit and run that was a near fatal accident. At the time, I was in SC on emergency leave, and had just buried my grandmother the day prior! My girlfriend was with me during the accident, and we both some how survived. I was traveling at 65-70 MPH, and the drunk driver T-boned me (ran a red light at the intersection on highway), occording to the troopers who responded he was going at a high rate of speed, probably 70-80 MPH. They also said that he probably passed out at the wheel...and that we should have been dead. I was unable to breathe right after the accident, and as a medic I first made sure my girl was ok. I had my adrenaline pumping, so I didn't feel a thing, just couldn't take a breat for around 1-2 minutes. I saw the drunk driving away very slowly...so I chased him on foot. Luckily, he got away and the police arrested him, because I don't think he would have liked what I had waiting for him!
After all that initial crap happened and all the police and firefighters kept me from tearing his head off...I was taken to the ER. Once my dad came in and he saw me, my adrenaline rush went away. I looked at him and I could see he was worried. Then the pain set in. When I walked into the ER, that was the last time I walked unassisted for 2 months. I was not paralyzed, luckily. I had compression fractures in my spine, T2 - L5. Herniated and bulging discs, and now of course I will have to deal with Degenerative Disc Disease forever (which we will all someday deal with). 22 years old, and I have arthritis, a messed up back, and PTSD/insomnia issues.
Anyways! I am being medically retired from the military because of that event. I have been spiraling out of control over the past 2-3 years because of deployments, this accident, and my units I've had to deal with. Lot's of pain + mental disorders + no support (500 miles from home) = a very dark and terrible place!
I have been dealing with the pain and suffering from this crap for over a year. I decided a few weeks ago that I have had enough! I decided to buy a German Shepherd puppy.
My reason for wanting a German Shepherd? A friend, someone who I can talk to, run around with, play with, get some exercise and get in better shape. I was 170 pounds before the accident, then I went up 216, I have been around 186 for the past month or 2. I got my puppy from a great breeder in Tennesee. They do a lot of protection training there, and now I am hoping to one day be able to go after a PSA title and agility training with my dog. Please don't be angry if I am not using the right terms, I am very new to all of this dog stuff. I want to find an AFFORDABLE trainer for protection, tracking, and agility. I know I can't expect too much right now from an 8 week old puppy. I have had him for about a week now.
The problems:
Ohhhhh Lord this little furry child is adorable, but he is nasssstyyyy! He is a poop eater, and pees/poops everywhere if left unattended for 3 seconds! He chews on everything as well. Especially when you try to pet him (not angry, just playing). These are all typical for puppies. So I keep my anger to myself, but it is still frustrating. Any advice is welcome!!!! ANY advice: training, food, exercise routine, crate training?, etc....
I apologize this thread has been so long, and to any of you who have stuck with it this far, I thank you for reading.
Here are some pictures! I am still deciding on a name...I'm thinking of him being named: Tirol von Österreich
What was left of my truck...
Day 1 Puppy!!!!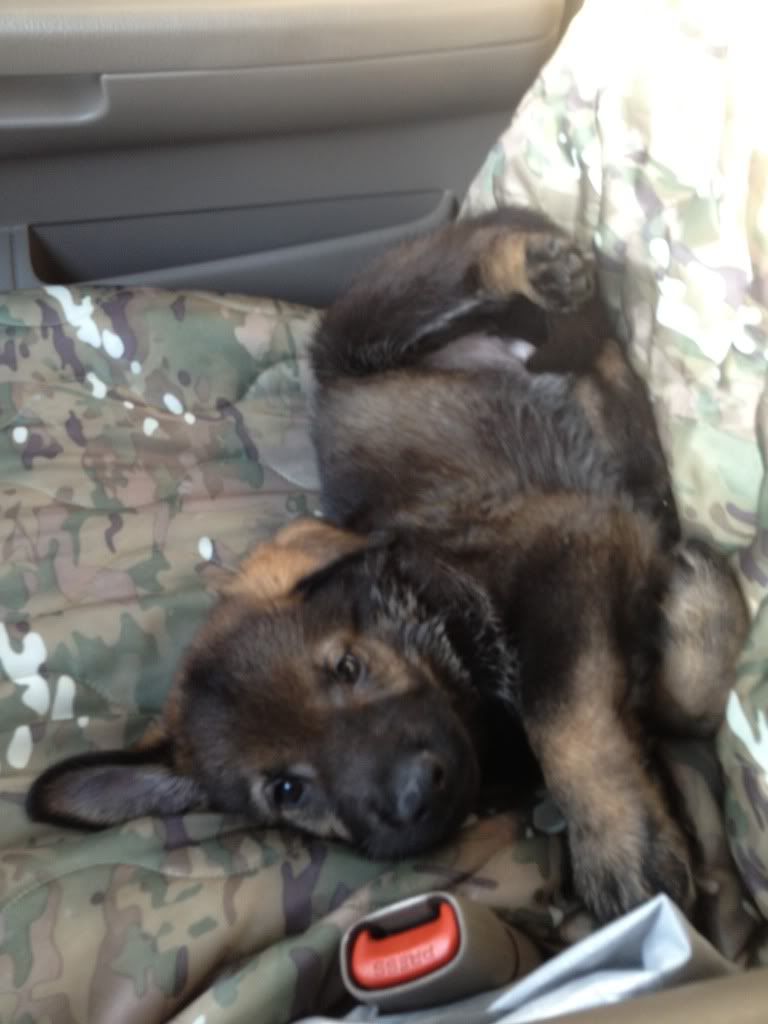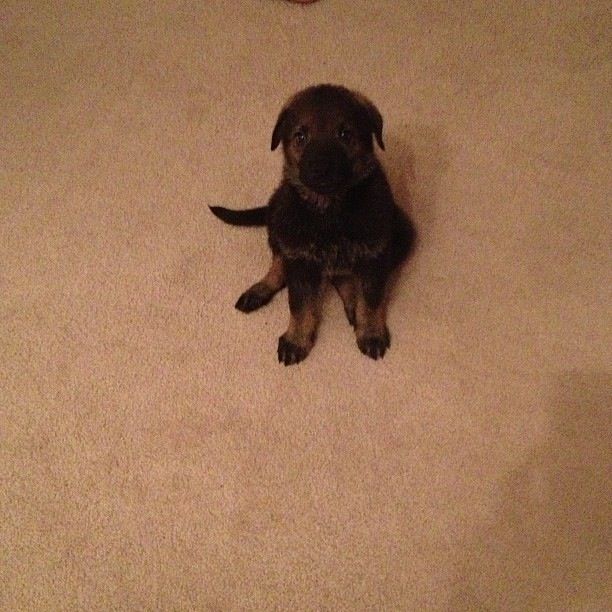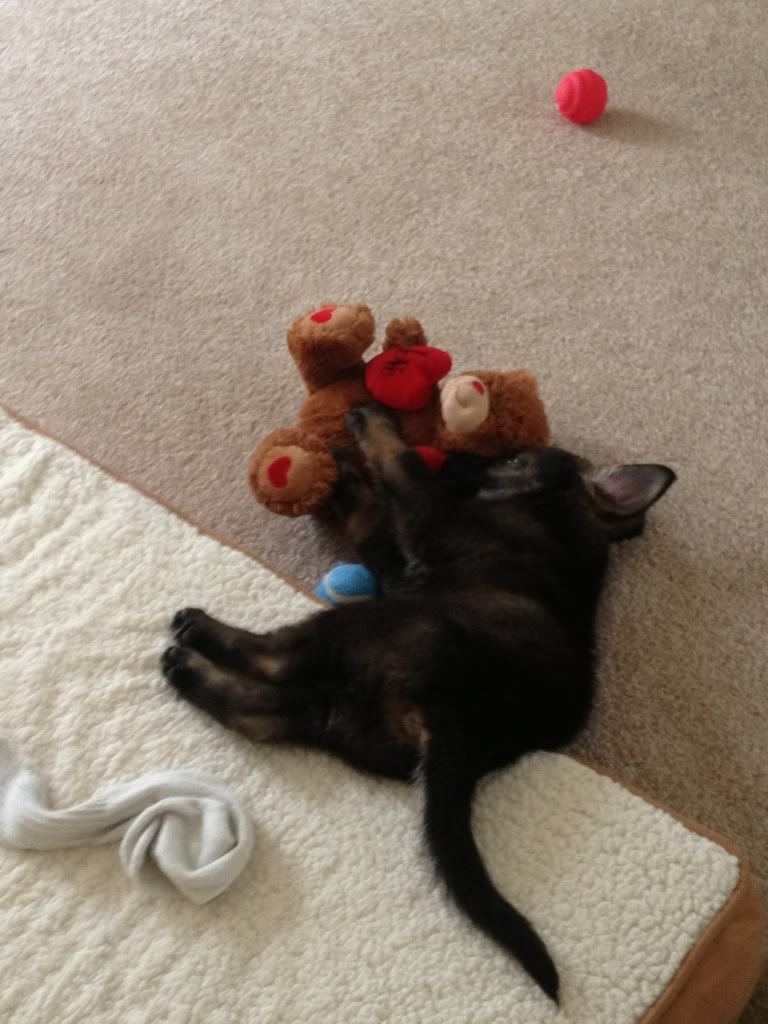 Spoiled rotten.... I hid a lot of these toys though until he is older.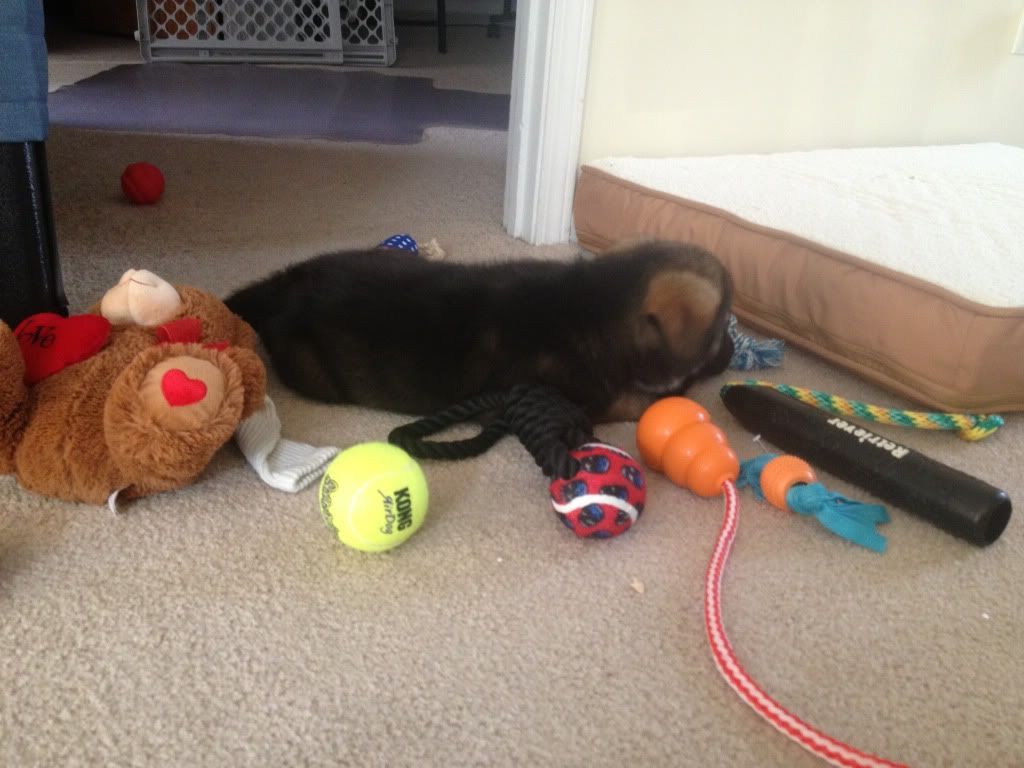 In this picture who looks like he's in pain but he was licking my face, that is my girlfriend.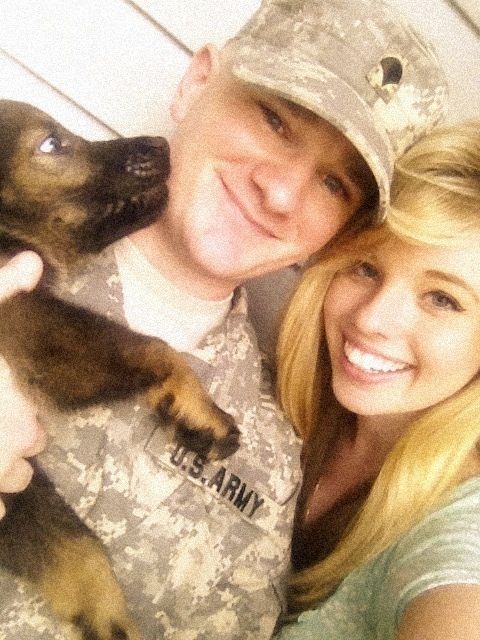 As of 8 July 2013: