Discussion Starter
•
#1
•
Today I drove four hours to Indiana to adopt a 7 month old female German Shepherd from a county humane society. I just got home a few hours ago.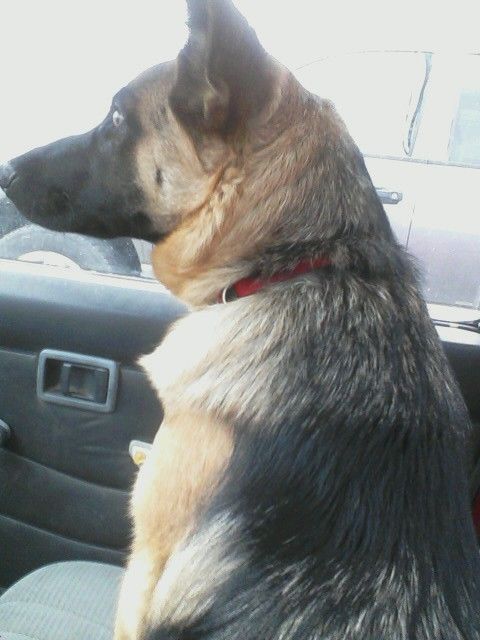 The story with Kali is that she was purchased as a puppy by a family with small children. The mom couldn't handle her, and the father worked all the time. She has obviously had no training at all. She jumps up on people, and I can imagine her knocking kids down. Kali is very happy to meet women, but not so much men. I was putting her outside just now when she didn't want to go, and I think she bared her teeth at me just a little as I pushed her out the door. When I reached to grab her collar, she shrunk back as though I was going to hit her. I suspect that the dad in her family must have hit her for reasons she did not understand, probably discipline delivered hours later after whatever she was supposedly being punished for.
So I am starting not just from scratch, but in the hole quite a bit. She has every bad habit there is. I want Kali to be aggressive, just not against me, so I want to correct her, but just not too much. It is a fine line, and not very easy to accomplish. I am going to start with a pocket full of treats to get her to understand the idea of accepting commands, or at least coming to me when called. No one has done that for her before. She is very smart; she started whining when I picked up a leash and attached it to my male's collar while she was crated. She knew the leash meant leaving; she whined the instant I touched it.
I think I have a great dog here. She is purebred and eligible for AKC registration. I suspect she has a European pedigree. It is a crime against all that is right and holy that a dog this fine could be at a county pound, which is why I drove four hours to get her.
I want to do everything right, and I will be reading a lot on this site in the next few days. But for the love of shepherds, please help me! I feel like I am in over my head. All suggestions are appreciated. Thank you.