Discussion Starter
·
#1
·
Hi guys, it's been awhile....
Not a GSD, I know.....but a sweet little old man named Cutest ( who I jokingly renamed Mr. Fister, just sounded like a grouchy old man name). He found me via Petfinder at Kankakee AC almost two years ago..how could I say no to him? He was 15, he had an eye injury, he was very afraid. Here's the picture that broke my heart.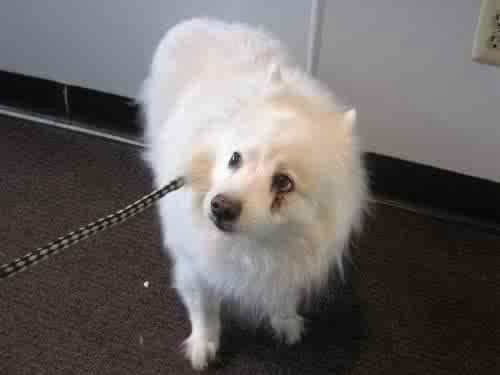 For almost two years this velcro ball of fur followed me everywhere. He let me dress him in turtlenecks and liked to be carried on my hip like a baby. He barked incessantly when I left the house and was estactic when I returned. His little powder puff tail would wag back and forth as he looked at me with his pleading sad eyes. Even when he was happy, he had a hint of sadness in his eyes. Last year we removed 13 teeth at the vet and he shook uncontrollably from the second we stepped in the door. I swore to him I'd never take him back unless I absolutely had to.
My sweet little guy passed away Friday, January 4th at 9:00 p.m. I held my Fister all day long as he slowly went from unsteady footing, to shallow breathing, to his last breath lying in bed between me and my daughter. I'm so thankful, he went quickly and peacefully. He lived to be 17. I hope I filled the two years I had with him with love and protection he may have been lacking. In return he filled us with laughter and joy.
I miss him so very much. He was always right there behind me, following me, barking when he couldn't find me. It's like losing your own shadow.......I'll see you at the bridge my beloved Mr. Fister.