Discussion Starter
·
#1
·
Today I picked up a little 9 month old baby out of an awful situation. She's 37lbs. I know she should not be overweight, especially that she's a tripod but yikes...She has to eat a cheeseburger or something. Seriously though, the poor thing has horrible tummy issues also.
She is scared of everything and everyone. It's awful to know...and not know...what she's been through. I've heard so many different stories...I do not know what to believe but the important part is that she's out of that situation and here with me. They believe her "owner" broke her leg. He said he came home from work one day and it was just all mangled up.
I'm carefully introducing my current three GSD's to this new little girl. They aren't being as welcoming as I hoped they would be but...I'm still going to try. Last year I adopted my senior GSD just before he was going to be euthanized and it was awful when I brought him home. I mean OMG awful!! But...I made it work and they are all best buds now. :wub: I hope I can help this little girl also! Here is Hera...
PS...Yes, I like mythology. Thor, Athena, Apollo and Hera.
Here is Athena checking on Hera...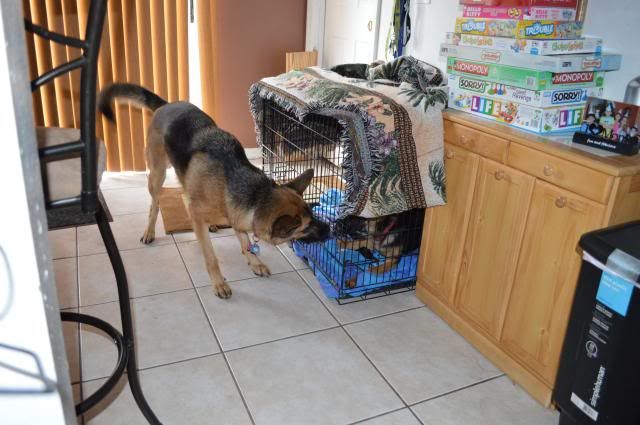 Here are my three GSD's that I had before I rescued Hera today...