Discussion Starter
·
#1
·
Thanks to everyone here for all the help a year and a half ago when I was trying to choose bloodlines, and then a breeder, for my puppy. I had a showline male who passed away, but he has bombproof nerves, a straight back, was a Czech import... Uran G-grandson, I knew I thought I might have a tough time finding the 'bombproof' again in W. Ger. showlines, so... I selected Czech workinglines. Now I have Grimm!
Everyone here gave me such good advice and guidance, especially about what to expect from a workinglines puppy! Oddly, I got much LESS acczrate input from people 'in real life.' I had been told to expect drive out the wazoo, expect constant, indoor restlessness, expect to be bloody from non-stop puppy biting, expect intensity, no bite inhibition even with work on that, expect a dog who would try to overthrow my position, (okay.. that did happen a few times, but not many LOL).. and expect his drives to absolutely explode as he hits 10 months.
Well.. I got what YOU guys said I would get, mostly. I did get a dog with stronger drives than is what I was accustomed to, but, again, you all gave me great advice. I use those drives-- they work for us as a team.
What I got was a dog who settles easily indoors (like lots of your dogs), who has prey drive-- but not VERY strong, he is a cuddle-bug.. NO cuddle limit, he seeks it out and he RECIPROCATES. Super-affectionate! I got a stronger play drive than I am used to. But again, we kinda use it to shape stuff like heeling, fast downs, stuff to strengthen our bond and work together.
What I got that I never expected: You cannot intimidate this dog. You can hurt his feelings, if he knows and cares for you, but nobody, no stranger doing anything, can ever intimidate him. I have never, ever seen this in a dog before. Fearless. Loves fireworks, jackhammers ripping up pavement, and chainsaws at full throttle. I had no idea workingline dogs could be so affectionate. I also had no clue what it is to have a dog CRAVE working WITH me: He doesn't want me to give him his ball or toy.. he wants me to have him sit, down, heel, come--- something, anything-- and THEN he is happy to get the ball as reward! Who knew about this and didn't tell me?
I have a calm, quiet, pushy, strong-minded, cuddly dog who wants to work with me. But, he has a lil more high octane than I am used to. Much of that is simple enthusiasm and youth that will ease down as he matures. His drives aren't anything to be scared of, as i had worried-- they are not over-the-top, they just make it fun for both of us to work or do stuff as a team. It isn't 'all about him' at all. Know?
I guess even with all your kindness and sage advice, deepdown in come corner of my fears, I expected, to some degree, a dog prone to aggression, constant pacing indoors, an aloof dog who was too driven to settle. I got a warm stable, quiet dog who has more bounce per ounce than I am accustomed to.. but who is social, friendly, fearless, enjoys being part of a TEAM. Happy, upbeat snuggler who relaxes indoors. Personable, gutsy, pushy.. he is friendly, willful, and kind. Thanks to you guys for helping me be partnered with him!
9 weeks old at his well-puppy check... Czech?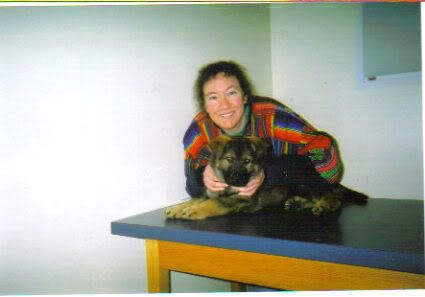 5 months old.. nobody told me workingline dogs were GOOFY!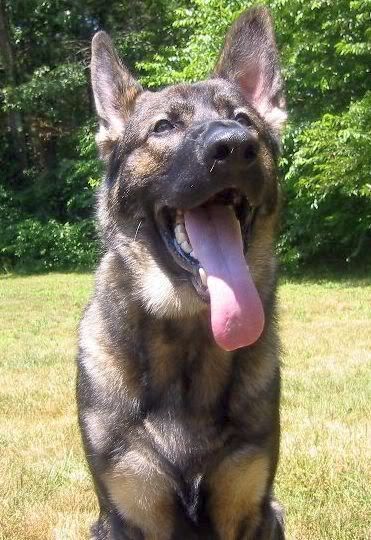 7 months and he loves his Kong!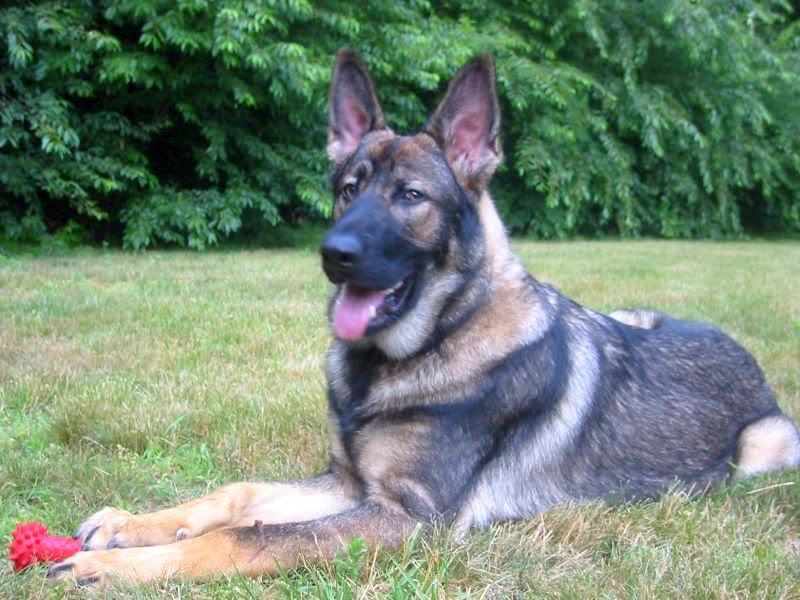 11 months and newly arrived in our home in Germany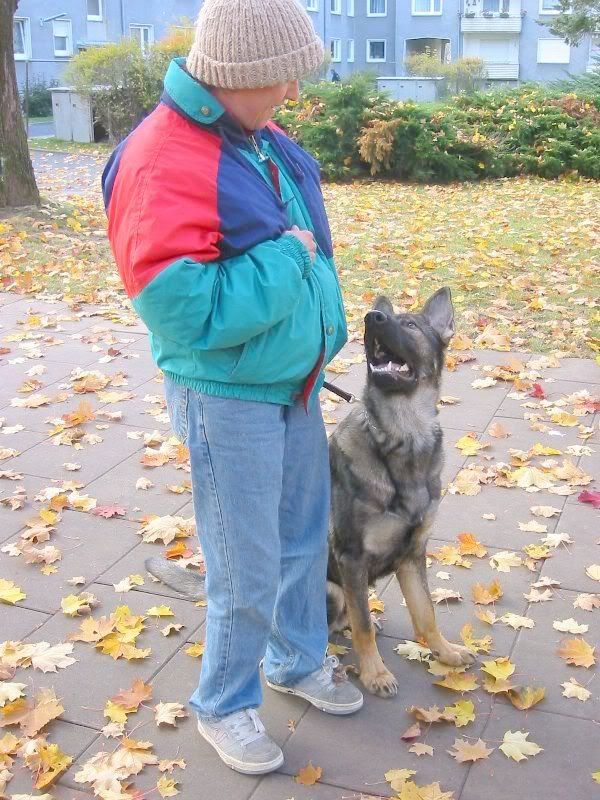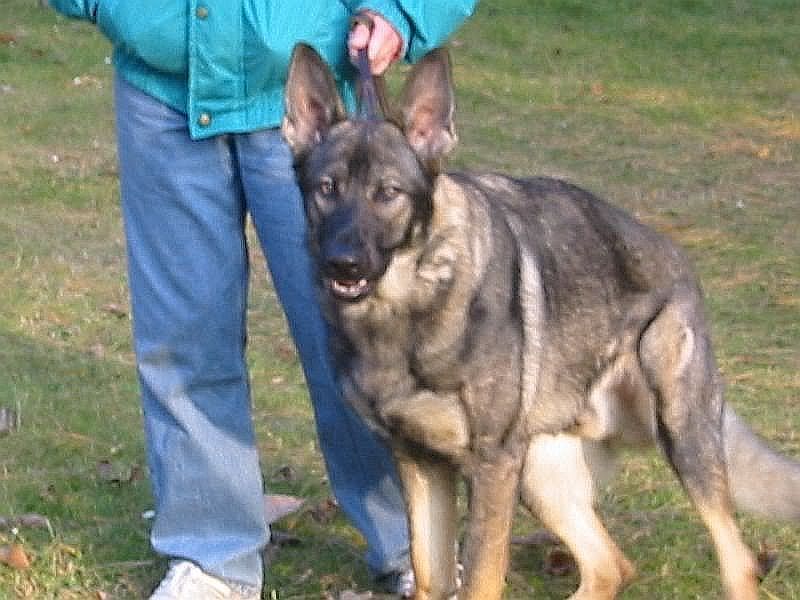 15 months old: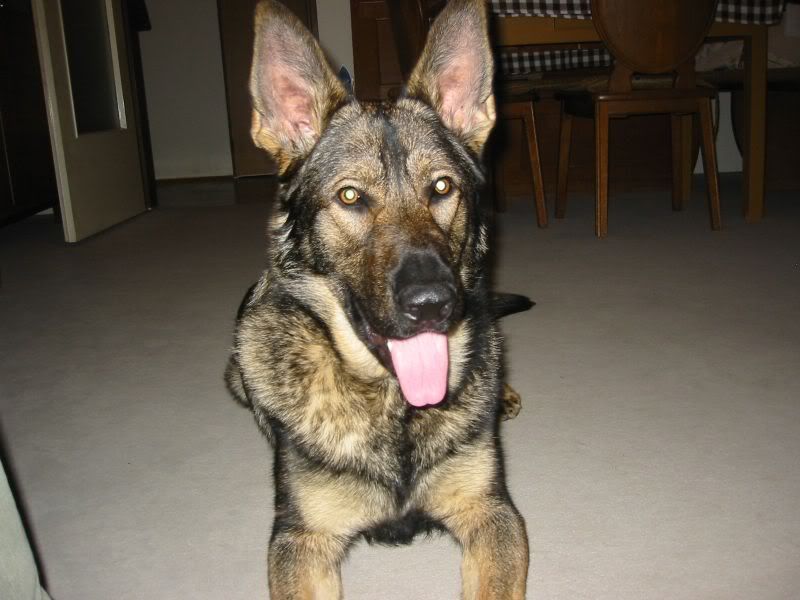 Rub dat tummy! C'mon... you know you WANT to!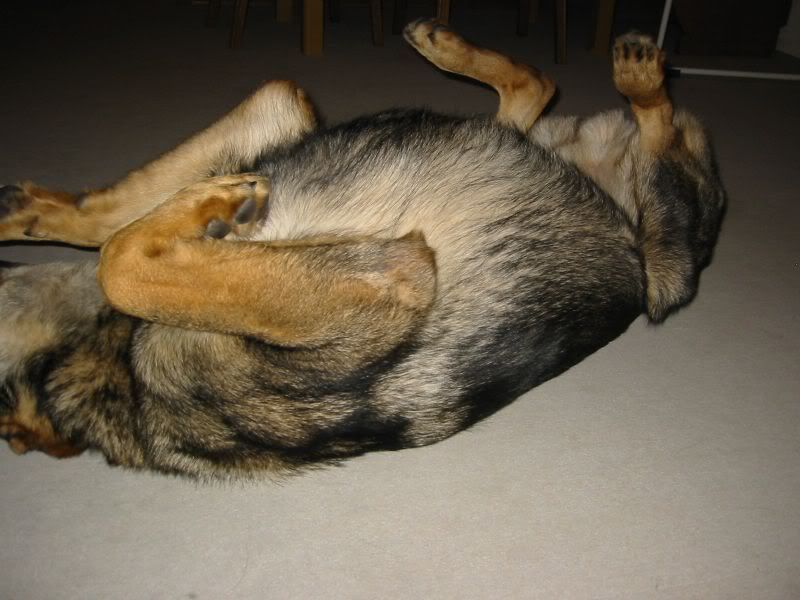 My favorite... my sweet, gentle, strong-minded, enthusiastic, cuddly, loving boy and me doing an off-lead recall for a toy.
He's about 13 months old here.