Discussion Starter
·
#1
·
For the past few years I have used this radio harness:
<ul>[*]
Conterra Tool Chest Radio Harness
[*]
Conterra Transceiver Pouch
[/list]
It served its purpose well, but over time I found it lacking so I started to look for something more suitable.
Like most people, I use my radio harness for carrying much more than just a radio. Anything that I use frequently or that needs to be easily accessible I like to carry in front of me so I don't have to take my backpack off. This includes the following items: soap bubbles, compass, map, GPS, avalanche transciever, cell phone, flagging tape, nitrile gloves, multi-tool, notebook, ID cards, pencil, pen, highlighter, ruler, protractor, flashlight, headlamp, extra batteries, glow sticks, sunglasses, sunscreen, lib balm, insect repellent, power bars, dog treats, lighter, hand warmers, dog thermometer.
The Conterra harness, even with the attached transceiver pouch, does not work well with such a load. The issues I have with it are:
<ul>[*]Capacity - there is simply not enough space for everything I want to carry.[*]Organization - most everything has to go in the main pouch, and with it all jumbled together it is difficult to locate each individual item quickly.[*]Stability - the straps are elastic, and with all the weight of my stuff it sags down. When running it bounces around so much I have to hold on to it.[*]Security - the main pouch is secured by velcro, and that leaves openings on the side where small items fall out and rain gets in.[/list]
So when searching for a new harness, I had the following requirements in mind:
<ul>[*]Large enough capacity to carry my intended gear[*]Easily organizable[*]Load bearing straps[*]Zipper closures[/list]
After reading about various products, I also decided that I wanted a modular design so that I could customize the selection and location of pouches to my liking. So I started considering
MOLLE
gear. This is the modular system used by military, law enforcement, and paintball types. I discovered that there are many different types of vests and pouches that use the MOLLE system.
Military Morons
has good reviews of MOLLE equipment. That is where I learned about the
TadGear OP1 Pouch
. It sounded like the perfect pouch for me to organize many of my miscellaneous items, so I bought one and then started looking for a suitable platform for it.
I didn't have to look far. Tactical Tailor has a nice line of MOLLE gear and since they are not too far away from me, I paid them a visit. Although I have seen some dog handlers wear full MOLLE vests, I just wanted a chest harness, and I found it in the TT MAV Vest. This comes in either 1 piece or 2 piece. I chose the 2 piece so that I can take it on and off easily. I also got the center adapter and X-harness that is made for it. The center adapter covers up the buckles in front so an additional pouch can go in the center. This is the perfect place to locate a compass. The X-harness makes it easier and more comfortable to carry heavier loads, and has MOLLE webbing on the back. This is a great place to attach a hydration pack when I'm not wearing a backpack. Luckily Tactical Tailor was having a sale at the time, so I got a significant discount off the usual price. Even so, this MOLLE approach to assembling a custom radio harness costs a lot more than a one-piece harness.
Over time I have tried various pouches, some that work well for me, and some that don't. It is easy to go overboard and put too many pouches on. But this can make it too bulky and restrictive to wear comfortably, so I have settled on the following gear which is pretty low profile and satisfies all my requirements:
<span style='font-size: 11pt'>Harness</span>
<ul>[*]
Tactical Tailor MAV Vest Body 2 Piece
[*]
Tactical Tailor MAV Center Adapter
[*]
Tactical Tailor X Harness
[/list]
<span style='font-size: 11pt'>Pouches</span>
<ul>[*]
TadGear OP1 Pouch
[*]
Tactical Tailor Radio Pouch Small
(1 for radio, 1 for GPS)[*]
Tactical Tailor Multi-Tool Pouch
[*]
Tactical Tailor Knife Pouch
(for SureFire flashlight)[*]
Blackhawk STRIKE Compass/Strobe Pouch
[*]
Emdom USA Smal Utili-Shingle
(between harness and radio pouches)[*]
Emdom USA Glove Dispenser Pouch
[*]
Wolfpack Gear Flagging Tape Dispenser
[/list]
<span style='font-size: 11pt'>Attachments</span>
<ul>[*]
Cyco Active BarMap Map Case
(velcro straps attach to D-rings on OP1)[*]
Gear Keeper Compass Retractor
(pin attachment)[*]
Pet Gold Waste Bag Dispenser
[/list]
It is not too difficult to reconfigure pouches to tailor it for specific uses. For example, before going into avalanche terrain I add another pouch on the side to hold my transceiver.
My tug toy (see earlier post) is attached to the side of the harness.
<span style='font-size: 11pt'>Left Side</span>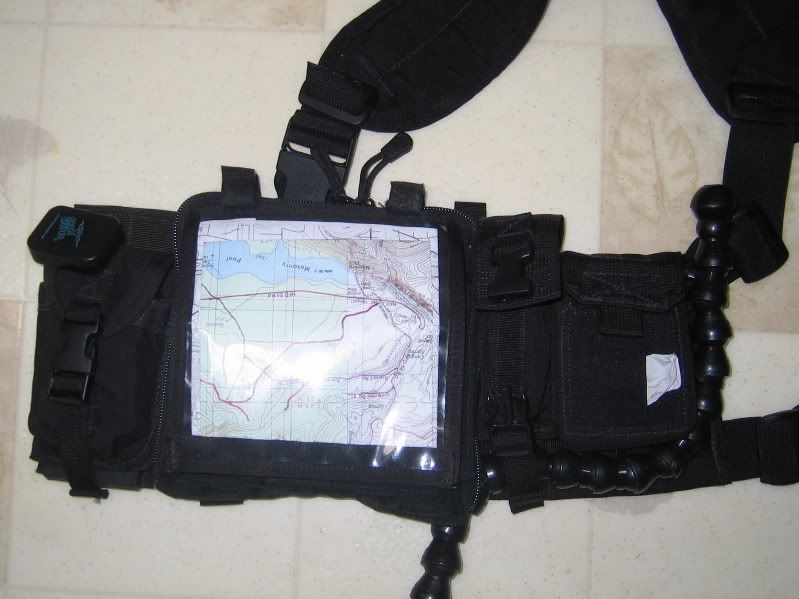 <span style='font-size: 11pt'>Right Side</span>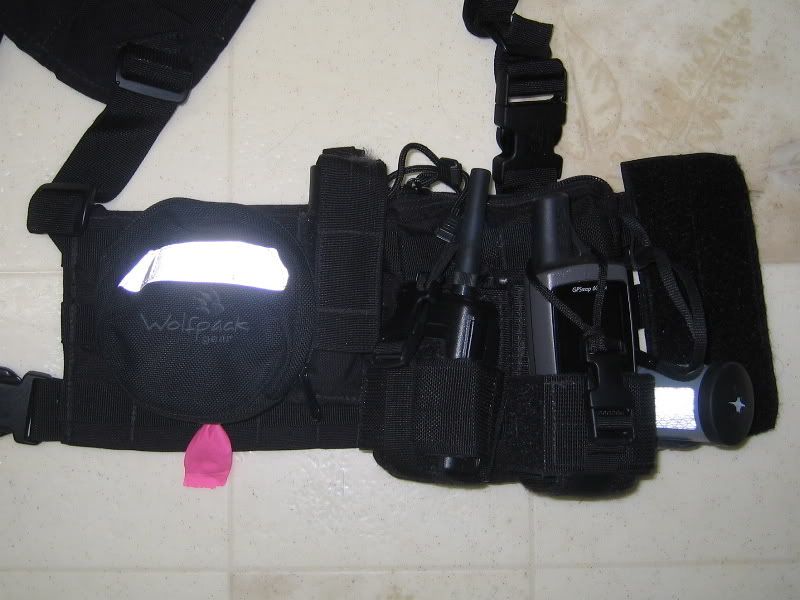 <span style='font-size: 11pt'>Center</span>