Discussion Starter
·
#1
·
Hello!
It was suggested that I post this (an email plea to everyone I know) here by a couple of folks in the IMOM forum, so here it goes:
[
Thank you
ahead of time for any help!]
Here's his story:
Bruno is a beautiful white German Shepherd (I'll have to verify, but I think he's 9 years old) who could really use some help. His person (Polly) of many years has passed away. She is all he knew for most of those years, so now he's a little lost. He's very sweet, but needs some loving guidance. He was placed in a couple of homes (Polly's son (Ed), and then her caretaker/nurse), but he attacked dogs in both situations. Most likely from fear, as he's never had to live with other dogs.

He also has a bit of a food aggression problem. It has only occurred twice, that I'm aware of, and it's only after he has the food, and someone reaches toward it (to stir the stuck together food, or to point out to him where his cookie went). Other than that, lol, he is a real sweetie, and just beautiful.
These are, of course, huge problems for most people - but I truly feel they are solvable problems with someone who has the time, knowledge and situation to work with him. He needs to be either the lone dog, or in a situation where he can be kept separate until he can be acclimated…

I fear if I don't find such a person, he will be put to sleep very soon. While he's sweet, and while these problems can possibly be solved, there aren't many people willing to try who don't already have dogs (and have no way to keep them separate … like ME!).

Please help! I don't know where to turn….

This is a seriously desperate situation for Bruno … and I'm willing to drive him as far as needed to get him to the right place… We are in Memphis, TN. But, again, I would drive to either ocean..

I will also take up a collection in his and his person's honor. I think, even with this economy, lol, that everyone involved will contribute as much as possible to help Bruno get a real shot at a second chance…..

Thank you for any help

P.s. He lived with a cat. And he seemed to get along with a female Beagle that Polly kept for her son while he was away.. But I don't know how much real contact he had with either the cat or the Beagle, so I don't know if that is significant… (at least one of the dogs he attacked was a male, I can find out if the other one was too, if it would be helpful)

What I do know is that Bruno has been through a LOT! So it's hard to know how much stress is affecting him....

________________________________________________________
Update:

Just wanted to share a couple of great photos of Bruno that I just took, and a funny bit that happened last night...

He apparently doesn't like fireworks, because last night a neighbor kid set off just a few, and for a good hour after, Bruno kept trying to climb up into my lap! I'm not sure how much he weighs, but a Yorkie he is not, lol...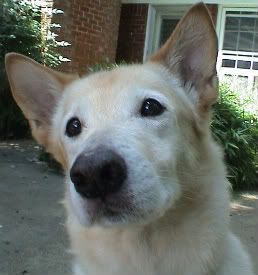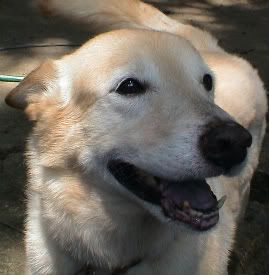 p.s. for the moment he is out of that vet cage and at my mother's, but while I just hate for him to stay in that cage 24/7!! He'll probably have to go back, as this is not an ideal situation at all....
I guess that cage is a little better than the alternative, but.... he just can't live like that, of course. I'm just lost as to what to do....