Discussion Starter
·
#1
·
Well, Marley came home on Friday night. (6 wks) She is so fabulous!! A very outgoing little girl with a great personality. She has no fear and is a true explorer. Food is her favorite thing in the world at the moment with her toys being a close second. She seems to always have a toy in her mouth or next to her. Our yard is full of sticks at the moment and she enjoys carting them from one place to the next. Our Sampson LOVES her and plays so sweet with her.
We had to go to a friends last night for dinner and she went along. They have 3 dogs (Lab, Schnauzer, and Shitzu) that Marley played with. We let her play for a little bit then took her to rest and then let her play again, rest, etc. This seemed to work really well. She loved the dogs, the 7 kids that were there, and the adults. Didn't even get bothered at all when a train went by their house. It was loud and she stopped to look but then went on playing with the kids in the yard.
I hope you like the pictures.
You are REALLY tall mom!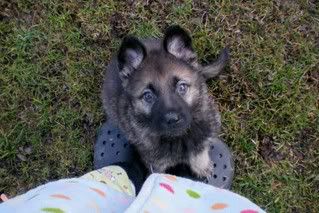 This stick is a little big, can you help??
My first tennis ball....I am in Love!
This one makes a great sound when I bite it hard...squeek