Discussion Starter
•
#1
•
Ok, so most of my cats have accepted that Maisey is now a fixture in their house and while they may not exactly like it, they're getting on with their lives. That is, all but one. Gizmo is exceedingly jealous of Maisey and the time she spends with me because it is encroaching on his territory.
Maisey wants desperately to play with the cats, but her charms haven't worked on them yet. With Gizmo, her charms are little more than an irritation. I've been waiting for something to happen between them. This morning it did.
Gizmo figured he'd had just about enough of Maisey's barking at him and bouncing around, so he took a dive from the dining room table to the floor where Maisey was and chased her into a corner where she was trapped. While Gizmo displayed his manly feline power over her with loud growls and hisses, poor Maisey whimpered as if she were staring Satan straight in the eye. I saved Maisey from the wrath of Gizmo's 5 or so pounds of fury, but he wasn't done with her. He followed us, jumped back onto the dining room table and just stared at the poor puppy who immediately dropped to the floor in the most submissive posture I've ever seen as she tucked herself between my legs for protection. Pleased with himself, Gizmo began to purr and give me head butts as he wiped his cheeks all over my face to mark me as his.
All day now, poor Maisey has been acting like she's depressed. She's not interested in playing, is afraid to get more than a foot or two away from me, and is very clingy. Has Gizmo permanently traumatized this poor girl?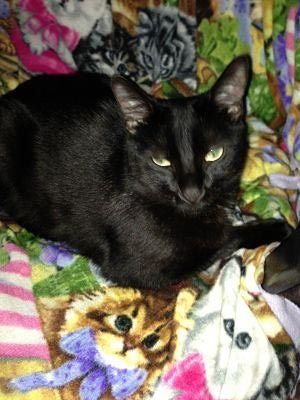 Gizmo looking all sweet and innocent, but Maisey knows better.