Discussion Starter
·
#1
·
I stopped in the local feeders supply this evening to get more "flying things" for Kord. While there I met these lovely ladies:
http://www.petfinder.com/petnote/displaypet.cgi?petid=11431647
http://www.petfinder.com/petnote/displaypet.cgi?petid=11431648
Fala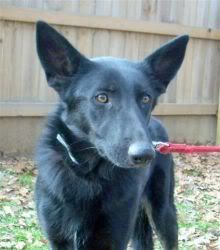 Freya
there write up is the same:
Child Rating: 6+
AVERAGE ENERGY COMPANION - Lively and inquisitive, I'm a happy-go-lucky dog who is eager to please! Whether it's going for walks, chasing a ball or playing in the yard, I love to stay busy. But, when the fun is over for the day, I'll be ready to relax by your feet.
I would take them both in a new york second if I could, but I cannot. I did ask questions while I was there, they have been in foster care, they are a bonded pair. They need work on leash and training, they are I believe owner surrendered since they woman said they were turned in because they were to "big and bouncy" (you really don't want to hear what my reply to that was). They are going to waive the adoption fee starting tomorrow, so they go for $60 (I am sure that is each). The woman there said they CANNOT go to a home with another female.
From what I observed, they seem ok, the blk/tn is the bolder of the 2, the black, who I would call more of a bi or blanket (she has tan on her feet and legs) was more reserved, but that could be becuase of the 30 kids screaming and running around the cages......
I did ask if a rescue had been contacted and all I got was that they had been in foster care...
I have no room for a second dog, which I badly want, but I cannot afford them or their care at this time, nor do I have expierence enough with multipules in this situation. I feel bad that I cannot step up and help the girls, hopefully someone can.