We came in from playing a little bit ago and I noticed blood all over the bathroom floor. I thought she started her first heat.
I made her lay down so I could determine where the blood was coming from and found she had cut her right thumb pad on something in the yard. It's not really deep but it's nearly the length of the visible part of the pad.
I cleaned it up with water and a clean terry towel. I put antiseptic on it which she didn't care for very much. As soon as I opened the bottle she knew something was up.
I then put a sterile cotton ball on the cut and wrapped a roll of gauze snuggly around her paw above her wrist. I wrapped that with some heavy duty medical tape, but I don't think that will last past morning. I'm going to inspect it in the morning and change her dressing and use duct tape in hopes that the bandage will still be on after I get home from work.
She's resting quietly now. She doesn't seem as interested in getting it off as she was a little bit ago. I'm checking to make sure her paw stays warm every 15 minutes to make sure the bandage isn't too tight.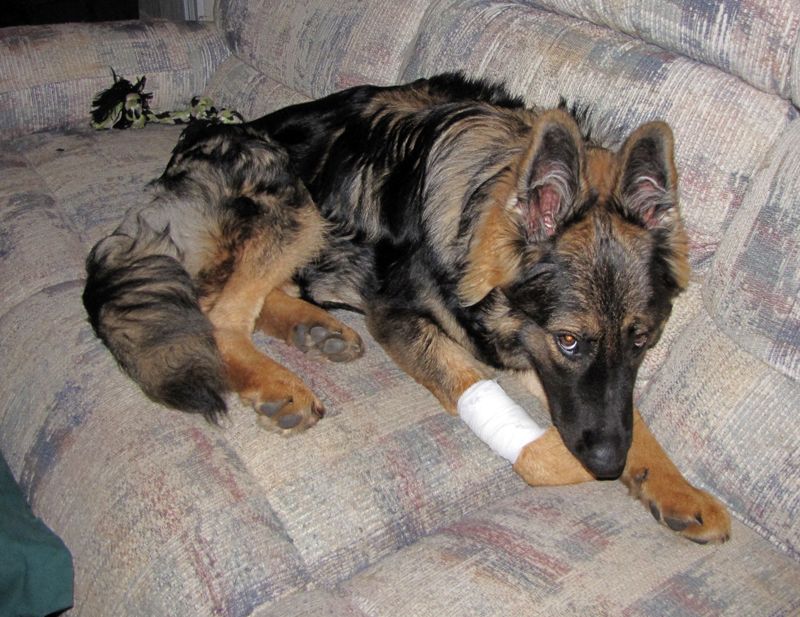 Would it be safe to give her a Bayer 82mg slow release aspirin, or would it not do anything for her? I take these for my heart every day.