Discussion Starter
•
#1
•
Email from AC. This has gone out to the IL GSD rescues.
I've attached pics of not 1...but 2 GSD's in need of rescue. Both of these boys have great potential for adoption after a little work.
We do not have a sufficient number of staff or kennels to get these
boys to the point of adoptability and their time is running out.
Either of these pups will do very well in a GSD experienced home.
First pic is "Harley" a 7mo old, neutered GSD. Harley was relinquished to us after his beloved owner, a 17yr old, was found dead in his room and Harley was guarding the body. Suicidal overdose is suspected w/ the previous owner. Harley is a very handsome and large red & black w/ a LOT of anxiety. He is constantly pacing and gives a very confused barking when you walk by his kennel. It is obvious that Harley is still VERY attached to his owner and has just begun to bond w/ me after working w/ him a bit. When walking him, Harley often jumps up-but has never shown aggression. As our staff have spent limited time w/ him, Harley has proved eager to learn and that he respects a pack leader. We believe that he is fully rehabable- but understand that too many more transitions may cause some permanent damage. We are seeking a rescue for him that can place him with an understanding, experienced and PERMANENT home.
Harley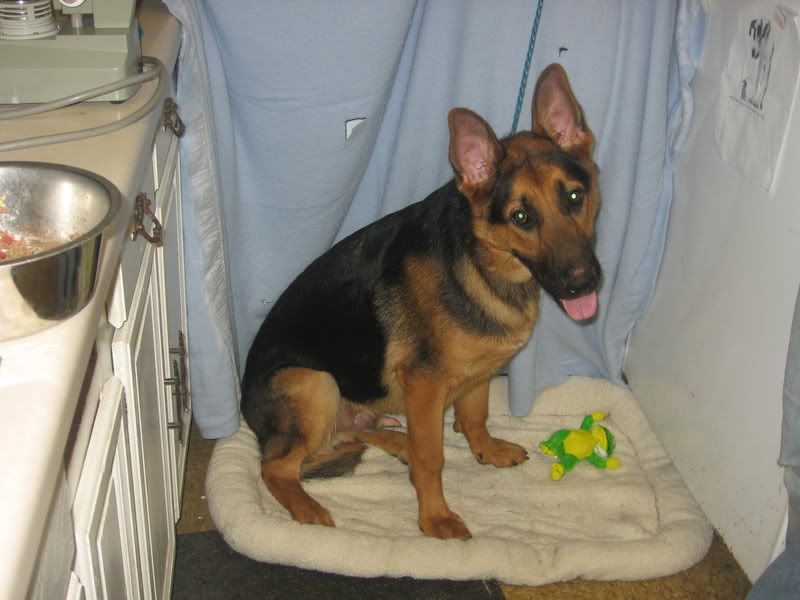 Second pic is "Enzo"- whom I found left in our outside runs one morning. He is submissive and affectionate with a LOT of ball drive. Enzo is an intact male about 10 months old with very little training. Enzo did not pass his temperament test because of resource guarding and being very grabby with treats and toys. While his behavioral issues are concerning, his rehabilitation will likely be less severe than Harley's. Enzo needs to learn basic manners and to have an owner who can be firm and a leader with him.
Enzo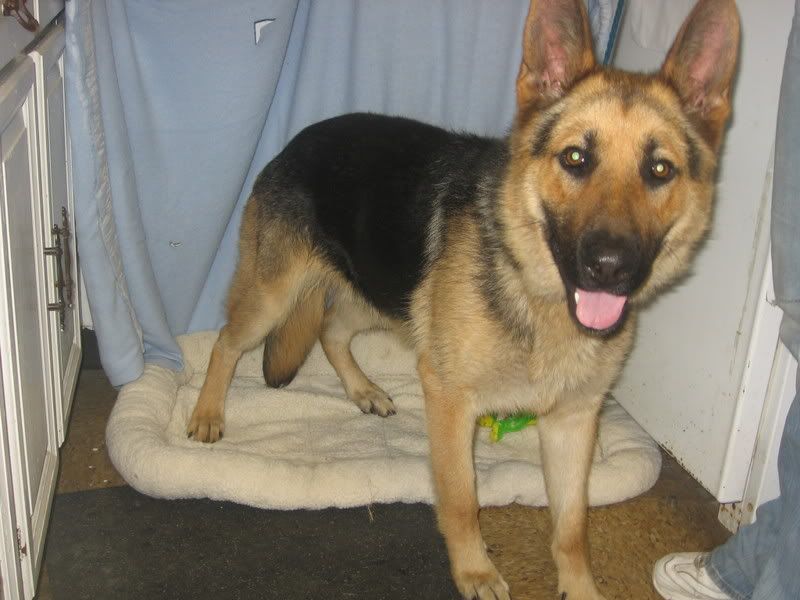 Both dogs have had all vaccinations, fecal testing and de-worming. Both dogs are in need of rescue to work through behavioral/emotional issues and will likely need placement in a GSD experienced home. Our shelter is still without power from the big storm, so I will try to get more accurate weights on these guys later. I'm guessing about 65-70lbs on them right now. This info may be cross-posted to appropriate rescues. Thank you!
~Melanie Griffin~
Adoption Coordinator
Kankakee County Animal Control
815-937-2949
Please view our website for a list of adoptable animals.
http://

[email protected]