Discussion Starter
·
#1
·
Juvenile Cellulitis/Puppy Strangles
As you all may know, three months ago, I recieved one of the cutest little furballs ever. His name is Apollo. He was the cutest little thing ever. He had all of his vaccinations on schedule, and everything had appeared normal. Here he is playfighting with my brother's dog, Beau: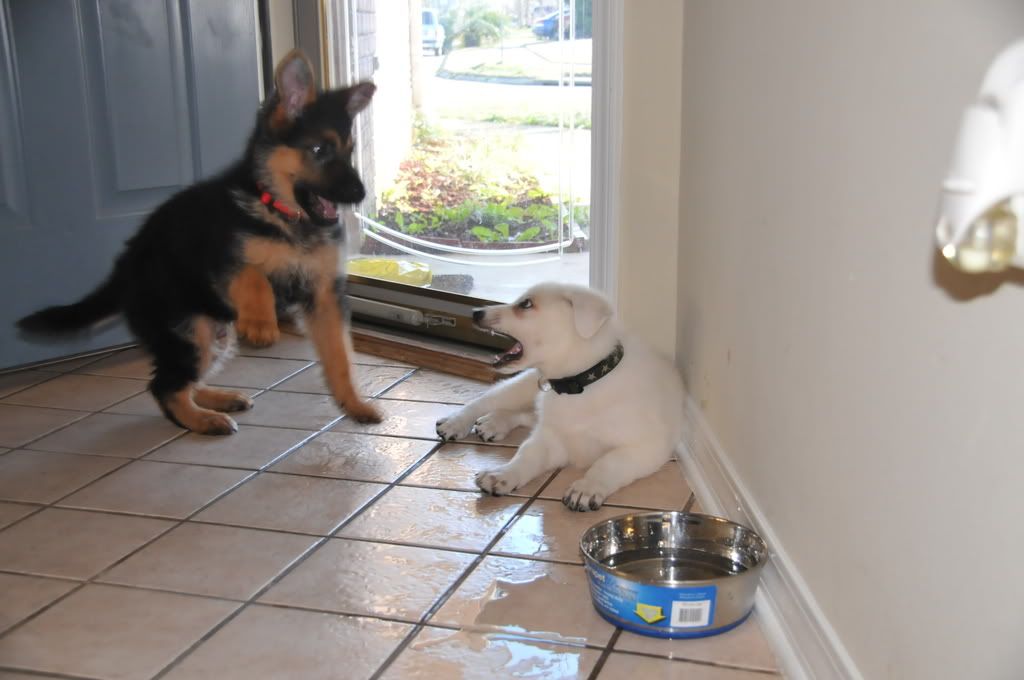 We had gotten him some of his vaccinations, and he had a heart murmur. We were told by the first vet that his heart murmur was of a low grade and that it could have been just because of his excitement from the plane ride. A couple of days, maybe a week or two later, Apollo flared up, really bad, to look like this:
At first the vet put him on ear drops for an ear infection. We found our that those were expired and then after she had him on a low dose of steroids which contradicted our reading from other vets, we decided to take Apollo to my brother's vet who he really liked. When first looking at the dog, the vet said that this dog was clearly very sick. Upon further inspection we decided that it was either an auto immune disease or Juvinile Cellulitis. There was really no way to know other than treating with steroids, which would treat for both. If it was Puppy strangles(cellulitis) then over time it would get better, if he couldn't stay off the steroids, then it was auto immune. This broke our hearts because he was such a good boy. He was just baby. However, we were going to give him a fighting chance.
For those of you who don't know, Juvinile Cellulitis is when a Puppy's immune system is not working properly. The vaccinations triggered this, and his ears got heavy from the flare ups, and later on, it cause bumps and hair loss on the face. Here is a pictures of one of Apollo's lowest points:
He was in pain, as you can clearly see from the photos, but he rarely cried. He was on painkillers to help him through this, priscribed by the new vet. We upped the dosage on the steroids, and now we played a waiting game. Over time, Apollo started to get better. He got more energy, and started to become that playful puppy he was supposed to be. He started to grow his hair back, and his ears started to shrink from the inflammation. For awhile I thought they would never come back up. But Apollo would prove me wrong. After weeks of staying on the treatment, giving him kibble with homecooked meat in it, we lowered his dosage. Apollo has been off of the steroids for two weeks now, and here is a picture of him now:
Quite a difference huh? The only thing is is that it's only been two weeks. We don't know if this will ever flare up again, and we don't know if he truely is completely well. He still has a little joint pain, but the vet can't determine if it was from this or something else. His Breeder was kind enough to take care of us and give us a replacement puppy, which was why we got little Zeus, who is literally his brother. They have the same father. This is Apollo's story. I wanted to share this with you guys so that if you have a puppy going through this, or know someone who's puppy is going through this, you can tell them that this is treatable, and to give them a fighting chance.