Discussion Starter
·
#1
·
made a 2 hour drive today to a shelter that had a GSD scheduled to be PTS today. trip was totally worth it. the people at the shelter told me that the owner left him in a drop box on the 22nd and they usually give them a week. made it there with a couple hours to spare. he was super mellow and came and sat right next to me in the fenced area they had where you can meet the animals. as he was sitting there looking at me the lady says "i probably shouldnt tell you this but he was going to be put to sleep today." it told her it didnt make any difference because i was taking him anyways.
now i have to wait till wednesday at 4 to pick him up from the vet.
absolutely the most handsome dog ive ever seen.
unfortunately, the only picture i have of him is the one the shelter took because the memory card for my camera got submitted to evidence the other night. ill go buy a new one and take plenty of pictures wednesday when i pick him up.
http://www.petfinder.com/petnote/displaypet.cgi?petid=10943900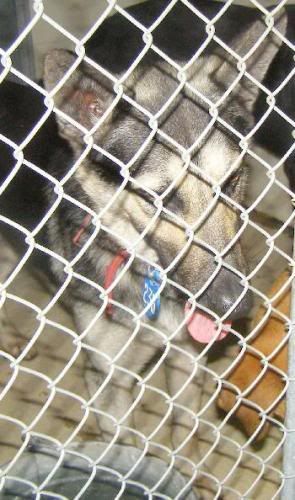 tomorrow im going by the pet store and buying everything they have
hes going to be spoiled rotten.