Discussion Starter
•
#1
•
I have a 10 month old sable GSD male and I have a problem with him scratching. I missed flea season by about a week with getting him on a preventative (did not treat for fleas during 2 months out of the winter). And it seems like almost overnight he had scratched/ chewed out 2 patches of his coat.
Here is what I am talking about.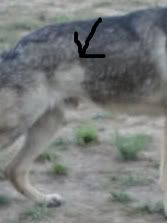 I have on comfortis for flea prevention. And I had someone recommend only bathing him every 3 months. He does get out and lay in the grass but what dog doesn't? How often should I bathe him? When he was younger I bathed him every 3 to 4 weeks so that I would be able to get him used to the bathing process, and this did not seem to dry him out and make him itch. ( I am a groomer so I conditioned and bathed him with an oatmeal aloe shampoo to avoid irritation.)
I am also giving him fish oil gel caps to try and avoid dry skin ...I have been doing this since I got him and again it did not seem to cause a problem. I am at a loss on what to do. I want his coat to come back in on those places (which it is starting to), but he is continuing to scratch.