Discussion Starter
·
#1
·
Hello fellow GSD Lovers, :wub: from Australia....
I finally get my little female puppy on Friday,
CAN'T WAIT
.
.. She is pick of the litter, now in this picture seven weeks old "Shaka" (Greatest Zuly Warrior, also the Hang Loose all good" Hawaian thumb and pinky out shake wave) Anyway Shaka is Pick Bitch of the litter from a 48 kg Police Dog mother and a 53 kg PPD award winning dog, and here she is being held by the Breeder's Wife a mid-sized lady... This might be the biggest 7 week old I have ever seen in a WD GSD.. :wild: I am in love :wub: I am going to breed Pick of the litter of the two strongest WD lines I can find in Australia...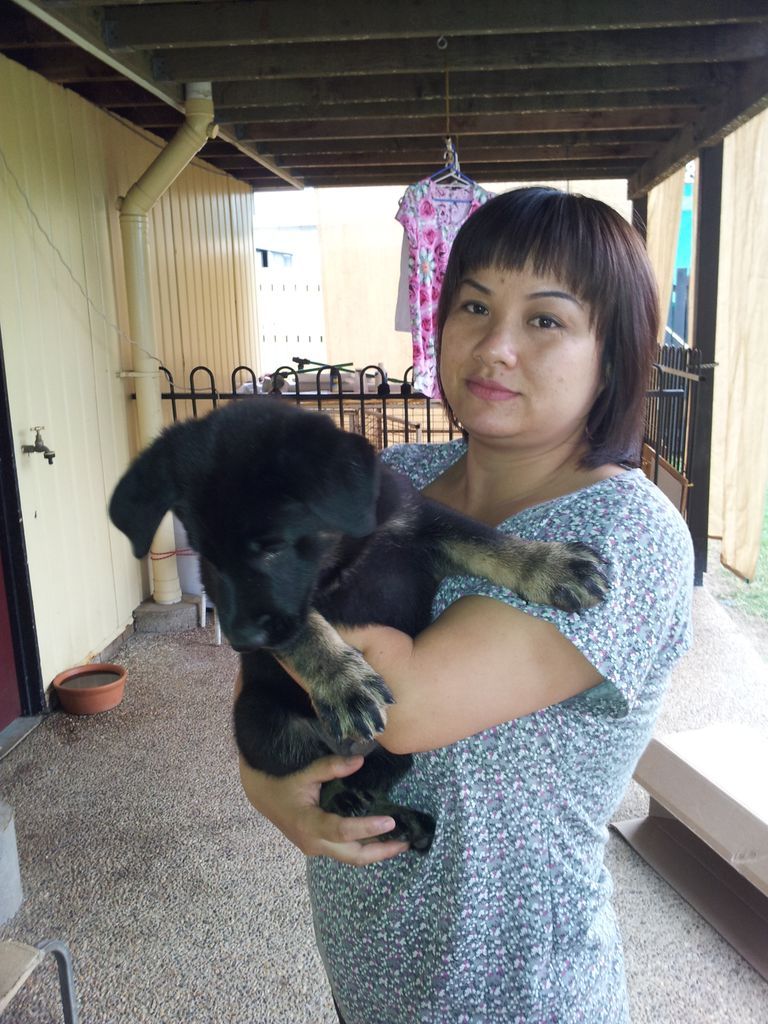 Now unfortunately this Breeder cannot be bothered with the RAW diet, and has started them on Advance puppy chow.
We disagree, because first of all growth is too fast on high protein puppy chow, for general health of joints and bone..
On the RAW diet, growth is a little slowed down, and they continue to bulk up after 12 months.. My Breeder of Caesar, a RAW purist and I have put our heads together and come up with this transition:
When I get her on Friday, 8 weeks Saturday, I am going to start her on mince. I guess you call your hamburger meat mince too? Anyway, a good grade of medium fat mince, alternating with chicken mince, maybe lamb mince. We will also start here on Lactose free, full cream milk for the two week transition.. I will do this for a week to (as my Breeder says clean her out) of the kibble, probably two meals a day unless She seems agitated and wants more. This is a big breed of strong working dogs, and I want to cross the two lines and breed my own for WD GSDs...
After a week on mince, at 9 weeks I will introduce bits of muscle meat and chicken wings. After that the mince dies away to MM, M on Bone, and Chicken, lamb, eggs, fish, the normal variations of RAW diet, and 10% organ meat like lamb kidney and beef liver and so on...
I hope this is a help. I will be mindful of what comes out the other end and how she handles it. That is the plan, I will post the outcomes and more pictures.
Kind regards, from a very Blessed GSD Lover in Oz... Out with my horses on the "Last Frontier", living "Dances with Wolves" as much as is possible...