Discussion Starter
•
#1
•
I recently purchased a custom embroidered martingale collar for Pimg after looking and looking for what I wanted. I was super pumped for it to finally arrive and after unboxing it- I thought it rocked. After the excitement wore off, I began to start noticing quality issues with it. Now, I want to make two things very clear--
This collar was NOT purchased by a sponsored vendor on this forum!
I have very high standards when it comes to things I could probably make myself.
I had really hoped that the martingale would be a nice stepping stone between our 3+ years of using the prong collar, to eventually only needing a flat collar. I didn't know that the martingale wasn't really much of a correction collar, and it had little to no effect on my dog. After spending $48 (shipped) on this useless collar, and after discovering that I am required to use a flat collar in agility, I decided to make my own flat collar using the super nice hardware I paid for in my martingale.
So with the backstory out of the way, enjoy the pics/info on how to make your own fabric wrapped flat collar. I will eventually make another one; I bought enough material to send some off to Grandma so she can embroider Pimg's name on it. This one was my "learn how to do it" one.
Materials
1/8 yard - color set, and preshrunk cotton fabric
1 yard - 1" nylon webbing
5/8" Stitch Witchery
Dog collar hardware (clasp, D ring, adjuster)
Fray Check (this is like super glue for fabric to stop thread from unraveling)
Wrapping Webbing
Start by measuring your dog. Since to collar has a lot of "loop backs," I measured by mocking up the collar itself using the webbing and trying it on my dog to ensure adjustability in both directions: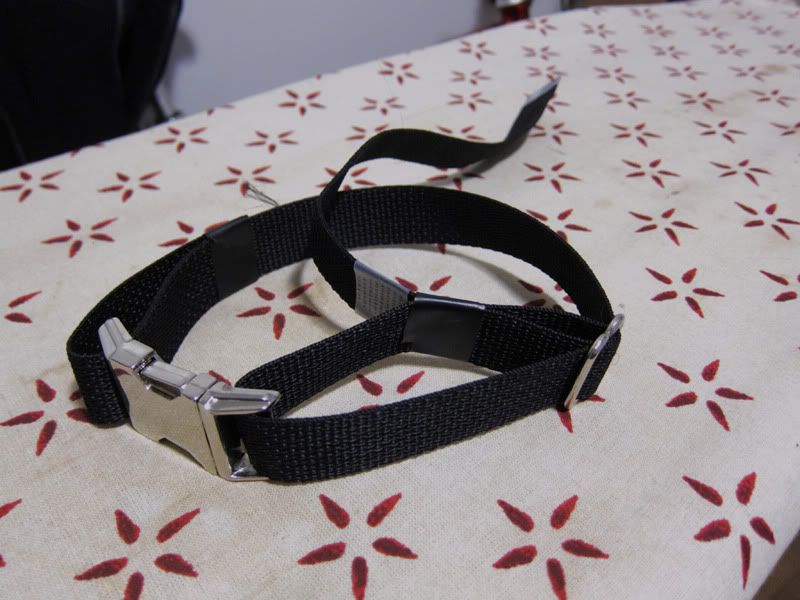 Once you have the collar adjusted to the proper size for your dog, take it all apart and cut down the webbing to length. Melt the end to avoid unraveling. The total length for my collar was 26"
Layout your fabric by cutting it 4" wide by the length of your webbing + 1". Since my webbing measured 26", I cut my fabric 27" long.
From the wrong side of the fabric, fold over one edge by 1 1/8". Note- the picture shows I had folded it over by 1". However, I found in later steps that I needed it just a bit more. So be sure fold 1 1/8"
Next, you need to fold the opposite side over by 3/4". It will gain you nothing (I realized after the fact) to mark your fold line. However, this is the only picture I took with the ruler. You can see the chalk line at 3/4"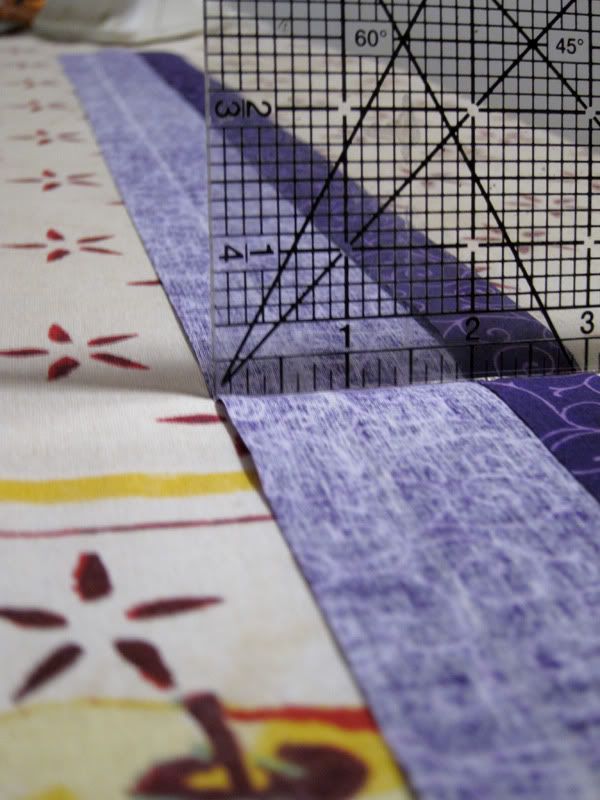 Folds pressed. [Editor's note: Remember to PRESS the seam, not IRON the seam. Ironing is something we do to shirts. Pressing is something we do to material under construction. Ironing at this point will distort the fabric.]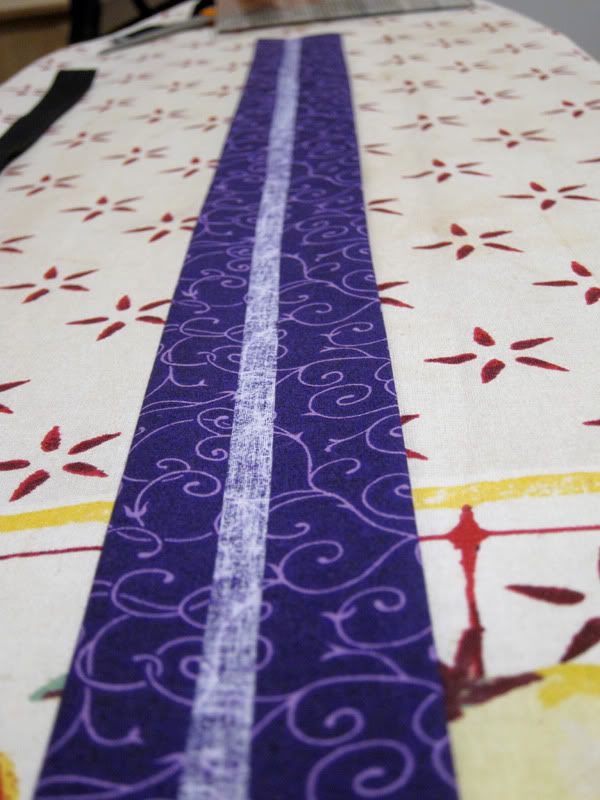 Tuck the webbing under the 3/4" side. You want to split the difference on the ends of the webbing, so you should end up with 1/2" of fabric on either end. We will use this to tuck it under for a finished end.
Next, you will put a strip of 5/8" wide Stitch Witchery on top of the webbing so that we can bind the other side of the fabric in place to make stitching easier.
After that, you will want to pull the wider side of your folded material up on top of the stitch witchery, encasing the webbing. If your fabric goes over the far side of the webbing a bit, then you will want to adjust your initial fold to account for this. Above, I mentioned that I had to refold at 1 1/8" instead of 1". This is because my seam went over a little. Press with steam to set the stitch witchery in place.
Something to look out for when rolling under the ends is a crappy corner like this shown below. My $48 martingale has one of these, and it pissed me off. Unacceptable: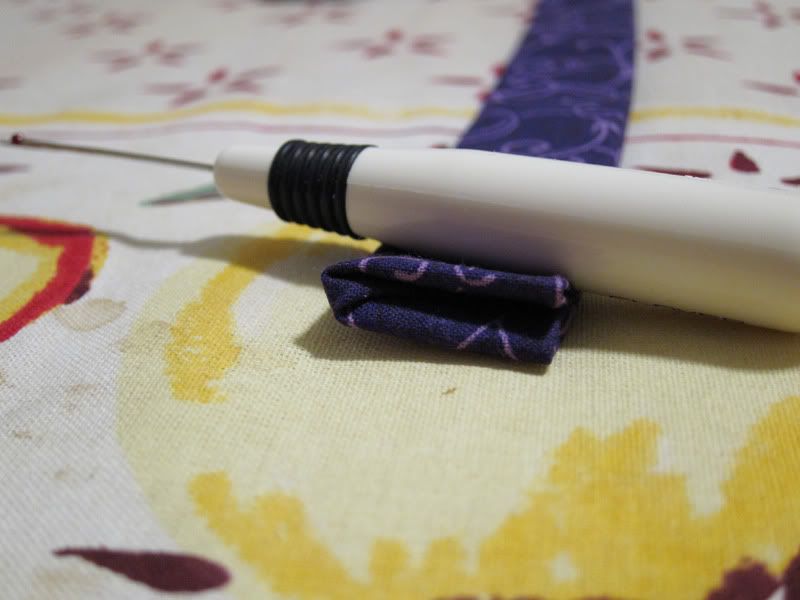 Fix it by pushing the corner under better with a pointy tool like a seam ripper:
Finally, you can stitch up the open side, as well as the ends. I will note here that I gave myself too generous of a seam allowance. So in the pic below, you can see that I am about 3/16" in from the side. I wanted to be more around 1/8" or even 1/16". Don't make my mistake (unless you want to correct it like I did two pictures down from here).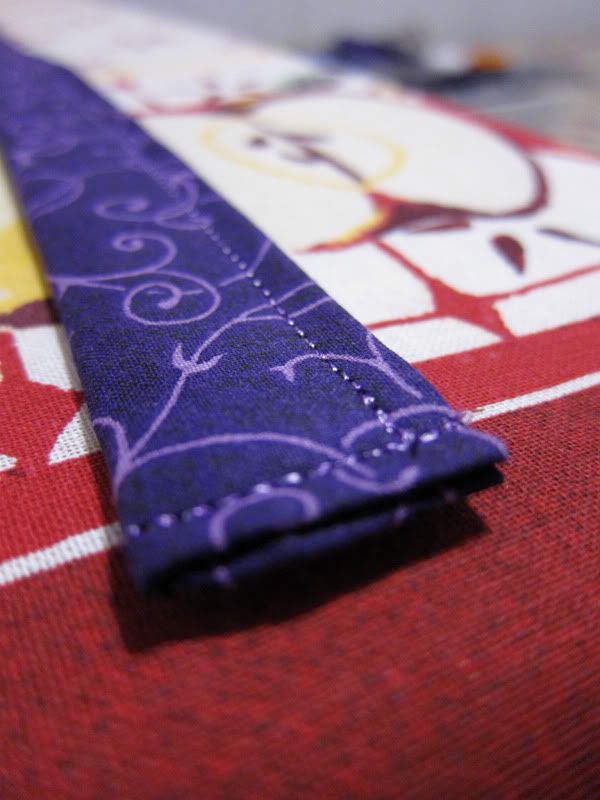 Once the open side is stitched up, you should stitch the closed side as well: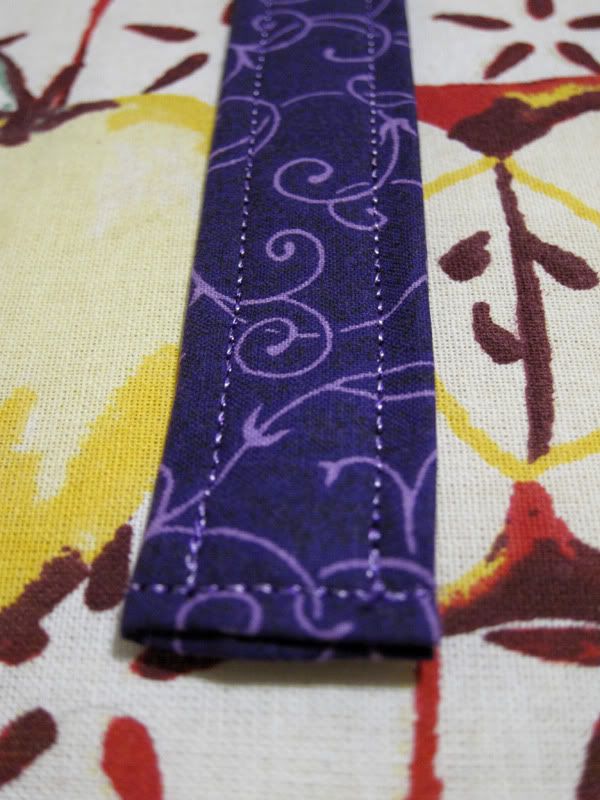 As I mentioned above, I felt my seam allowance was too generous, so I stitch both sides again at 1/16" seam allowance:
Assembly
Start assembly by looping the collar material through one end of the clasp. Be sure to leave plenty of "leg" on the short side because we also need to sew the D ring in place here. Here is the material folded over, with a heavy stitch holding the clasp in place.
Next, slide the D ring up the collar and butt it against your stitch. Stitch the D ring in place in order to close up this end of the collar. I always stitch a heavy 'X' boxed in with a square for something like this. Be sure to put Fray Check on your stitching- don't want it coming undone! And with the collar material being kind of thick doubled up like this, you can't rely on backstitching to lock your thread in place.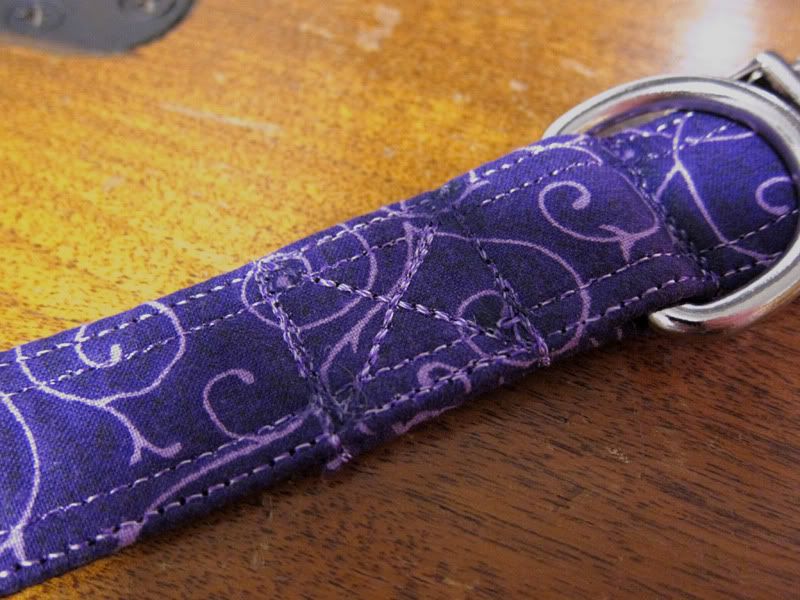 Now you need to turn your attention to the other end of the collar. Be sure not to forget the adjustment ring- that would suck! Slide the material through both loops of the adjustment ring, through the clasp end, and then back through the adjustment ring again. Fold your material back over on itself, and stitch a heavy boxed in 'X'. Again- be sure to add Fray Check.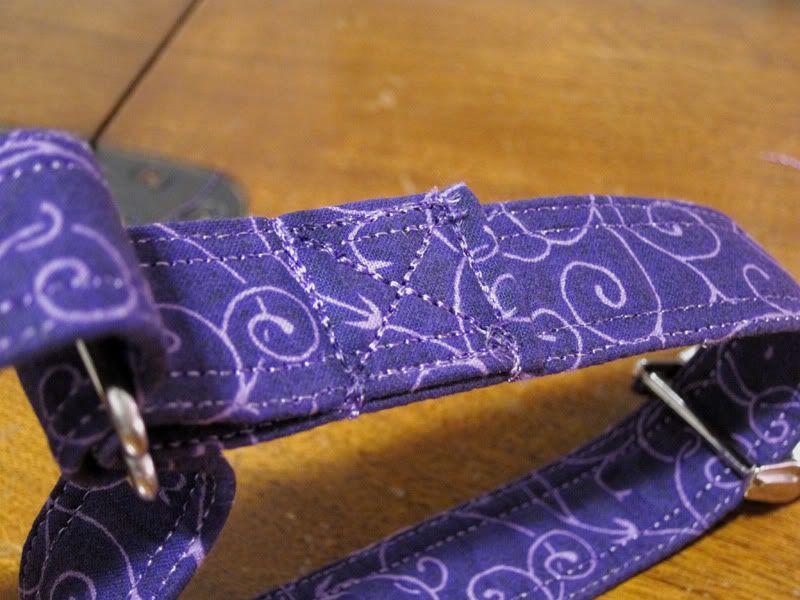 You now have a completed fabric wrapped flat collar!
If your dog is a bum, and just wants to lay on your clean folded laundry on the couch, then it might look like this: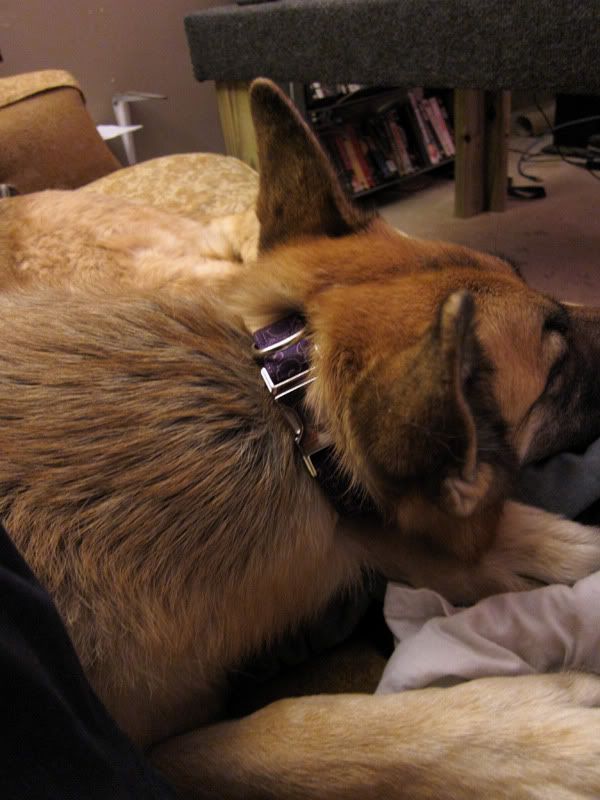 Enjoy! It only took me 2 hours to make, and that's with taking pictures of every step.