Discussion Starter
·
#1
·
My first post here and I'm sorry that it is so self serving. Recently our GSD (Loki) of 11 years passed away. My wife is hopeful to find a distant relative of our dogie for the next addition to our family. We went to the breeder that her mother had purchased Loki from as a puppy but they no longer are breeding dogs and they have lost pretty much all of their records. What we have are photocopies of Loki's lineage because my mother in law did not register her with AKC.
I've contacted a few breeders whose names stick out but have had no success, either they have not replied back to me via e-mail or they no longer have that bloodline in their breeding program. I am hopeful that someone here might be able to look through these dated lineages and find something that they can use to point me to a breeder that is using a part of this bloodline.
I understand that all GSDs are descended from the same cloth, and a great GSD is still a great GSD, but still, my wife and I would love to find a piece of our baby out there somewhere if it's in the cards. For background the breeder that Loki was purchased from was in Lenox, Michigan.
And here is a picture of her just a few days before she passed: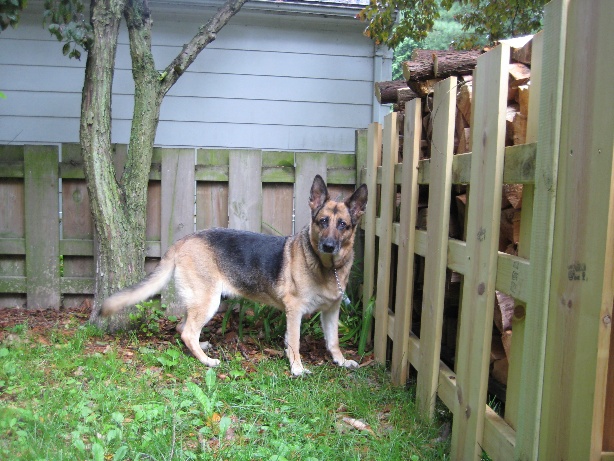 Thank you anyone for your help.
Father's Side
:
Father - Max of Thunder
Sire - Maxim Vom Haus Smokey Dawn CD
Pedigree
http://www.destructve.com/images/Grandfather-FathersSide.jpg
Dam - Lady of Thunder VII
Pedigree
http://www.destructve.com/images/Grandmother-FathersSide.jpg
Mother's Side:
Mother - There is no sheet for the mother and because Loki was never registered I do not have the sheet for Loki listing the Dam
Grandfather - Skeet Shooter
Sire - Rykers Shadow
Dam - Sandig Ufer's Maui
Grandmother - Scarlett's Angel
Sire - Schotze' Sir Lancerlot
Dam - Katherine Scarlett
Great Grandmother - Katherine Scarlett
Sire - Josh Von Heinle Mayes
http://www.destructve.com/images/GreatGrandfather-MothersSide.jpg
http://www.destructve.com/images/GreatGrandmother-MothersSide.jpg
Any help of leads would be much appreciated, my hope is that this would be an easy task for someone here as it's pretty difficult for me to find much, after all I can't expect everyone in the world to have a web page and some of the information is 15-20 years old which in terms of breeding is a long ways back.