Since I found out Koda won't bolt on me I've been taking him and Riley down to one of the fields by my house for some off leash freedom. They have tons of fun romping around and wrestling. They always stay within sight, but I like to bring a bag of sliced turkey with me as incentive for recall training just in case, you can see me using it in one of the videos. In the first one we had just gotten to the field so they were full of energy and ready to run so when I watch it I can just imagine this going through their heads...
"Frrreeeeeeedddddooooooommmm!!!!! Come back? Heck no! Wait...Turkey? Umm.. Ooohh.... That sounds good. I'll turn around for turkey".
I like how they become dots on the horizon, but as soon as I shake that bag of turkey they come right back and just about take my fingers off for it.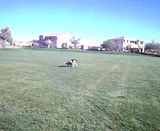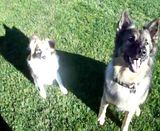 You'll have to excuse the quality of the images, they were taking with a POS P&S camera, but it's the only one I have that will do video, too, which is what I really wanted to do out there initially, I just happened to take some photos. They just decided they would both sit pretty and stay at the same time, so I popped off some shots. Unfortunately, I had to lay on my stomach and shoot into the sun with no viewfinder, so I had no idea how they would turn out. It made for some interesting shots to Photoshop though. I just figured it had been a while since I had posted any pictures of my guys, so it was about time.