Discussion Starter
·
#1
·
This post could be under food or puppies but I really wanted to hear opinions from others with high drive dogs. The puppy (Radar) we have now is the most food driven dog I have ever seen! He gets part of his food in bowl, part in kongs and part during training. When he does eat from a bowl he acts frantic and eats so fast he spills it and hardly chews. He has had 2 bouts of runny poop now about 2 weeks apart. Both times vet found no virus, no bacteria and no worms. First time I thought it was from him eating my other dogs food- Canidea or from eating a few zukes natural treats. This time I just don't know- vet said nothing else is wrong with him so it is somthing he ate. 24 hours before he did have many small peices of mild cheese at his first puppy class. Could it take 24 hours for him to get sick after eating cheese? We also had our house sprayed for ants- non- toxic to pets but still I worry it could have given him a tummy upset. My question is what do you do with a dog that wants to eat everything in sight but has a sensitive tummy? His poop is the best on plain, cheap puppy food but I want to switch him over to a better food as soon as I can without hurting his tummy. Canidea might be too rich. In my small town I can get Tast of the Wild (only wetlands or bison), Chicken Soup large breed puppy or adult and some Innova not sure what kind. In Nashville I can get almost anything- that where I drive for Canidea. I guess for now i will just use his food for training treats. The poor guy is always starving and a little on the skinny side. It seems like I am making this so complicated... anyone have an easy solution?
Here are the photos I posted this weekend of him at class- you can see how focused his is for food for such a young pup!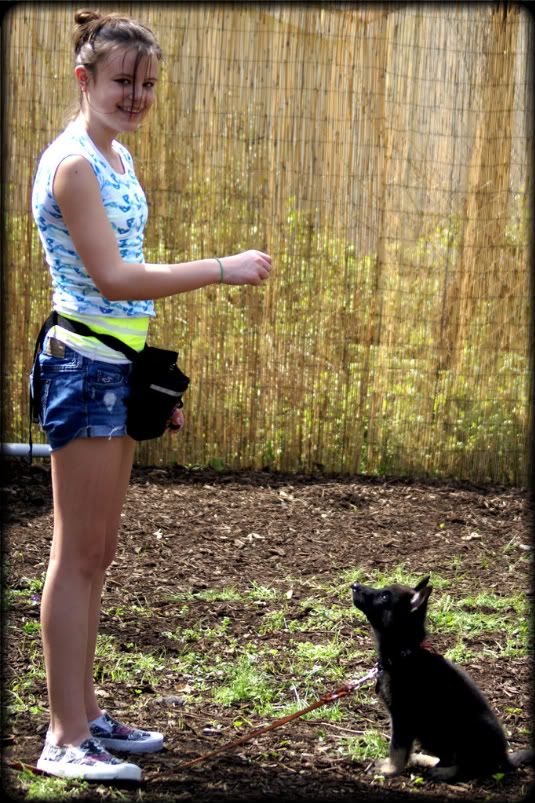 Thanks for all your help!