Discussion Starter
·
#1
·
So today was the first day Abi initiated play with Finn. We have no clue how much litter socialization she got before she was dumped and she definately didn't get any after while boarded at the vet. Simple play actions from Finn like a play bow or him even coming too close to her got her screaming in terror and it would take 10 minutes before she stopped and calmed down. The shaking wouldn't stop for at least twenty minutes.
Today, they were playing around on the floor. She started by jumping on him when he was laying down. The rest is history.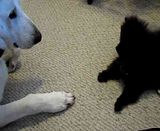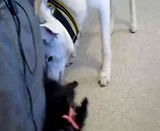 Hope you enjoy! I used Photobucket to upload the vids as YouTube was not cooperating today. Just click the pics and they'll take you to the video.