THIS IS A CROSSPOST!! IF YOU CAN HELP WITH ANY OF THE MISSING LEGS OR THE OVERNIGHT IN THE TOLEDO, OH AREA, PLEASE CONTACT AMY AS SOON AS POSSIBLE AT

[email protected]

!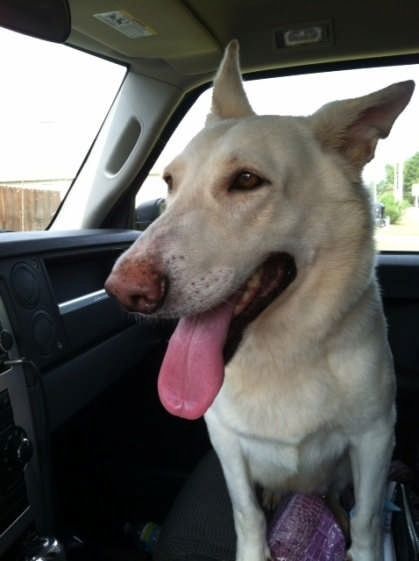 Dog Information
Passenger(s): Juno
Breed: German Shepherd
Age: 3-4 years
Sex: Female
Neutered/Spayed? yes
Size/weight: 57 pounds
UTD on shots, including rabies: Yes
Overall health? Good.
Housebroken? Yes
Does she get along with other animals? Can be dominant with other dogs – needs to be introduced and
monitored, DO NOT introduce to other dogs on transport
Does she get along with children? Yes
Does she get along with Men? / Women? Yes
Any behavior problems? No.
Is a crate optional or mandatory? Optional for travel. Recommended for home use. If so, is
one provided and what size is it? No
Items traveling with: Collar, leash, records
*******************************************************************************************
Echo Dogs Transport, Saturday Feb 16th and Sunday Feb 17th
Richlandtown, Pennsylvania
to
Fox Lake, Illinois
Saturday
Leg 1
Richlandtown PA to Tannersville PA
46 miles, 1 hr
Leave 8:00 am EST
Arrive 9:00 am EST
*** Filled *** Thank you Lisa!
Leg 2
Tannersville PA to Bloomsburg PA
65 miles, 1 hour
Leave 9:15 am EST
Arrive 10:15 am EST
*** Needed ***
Leg 3
Bloomsburg, PA to Bellefonte, PA
78 miles, 1 hour 15 min
Leave 10:30 am EST
Arrive 11:45 am EST
*** Needed ***
Leg 4
Bellefonte PA to Dubois PA
60 miles, 55 min
Leave 12:00 noon EST
Arrive 12:55 pm EST
*** Needed ***
Leg 5
Dubois PA to Grove City PA
84 miles, 1 hour 20 in
Leave 1:10 pm EST
Arrive 2:30 pm EST
*** Filled *** Thank you
Laura!
Leg 6
Grove City PA to Ravenna OH (off hwy 80, north of city)
69 miles, 1 hour
Leave 2:45 pm EST
Arrive 3:45 pm EST
*** Filled *** Maggi
Leg 7
Ravenna OH (off hwy80) to Milan OH
75 miles, 1 hr 10 min
Leave 4:00 pm EST
Arrive 5:10 pm EST
*** Needed ***
Leg 8
Milan OH to Toledo OH
55 miles, 1 hr
Leave 5:25 pm EST
Arrive 6:25 pm EST
*** Needed ***
Overnight Needed Toledo OH, Saturday Night Feb 16th
*** Needed ***
Sunday, Transport Resumes
Leg 9
Toledo OH to Angola IN
85 miles, 1 hr 30 min
Leave 9:00 am EST
Arrive 10:30 am EST
*** Needed ***
Leg 10
Angola IN to South Bend IN
75 miles, 1 hr 10 min
Leave 10:45 am EST
Arrive 11:55 am EST
*** Filled *** Mike
Leg 11
South Bend IN to Gary IN **** Time Change during this leg****
65 miles, 1 hr
Leave 12:10 pm Eastern Time
Arrive 12:10 pm Central Time
*** Filled *** Steph and Brian
Leg 12
Gary IN to Fox Lake IL
80 miles, 1 hour 40 min
Leave 12: 25 CST
Arrive 2:05 pm CST
*** Filled *** Steph and Brian