Discussion Starter
·
#1
·
Dog #1. Sable German Shepherd about 4 years old.
I left Lithia Springs about 7:30 this morning and drove down to Warner Robins to look at a couple of German Shepherds. This first dog was supposed to be a White German Shepherd in pretty rough shape, but we'll get to her later. This first dog was her kennel neighbor. I apporached the kennel and the dog payed me no attention. Very calm, neutral body language.
I opened the gate and stepped inside. She was a little uneasy at first but so are most dogs at the shelters. I stood tall but calm and slipped my chain lead around her neck without issue. I turned around without saying anything to her, walked out of the cage and to the side of the building where we could get away from the other barking dogs. Once we got there, she immediatly sat right on my feet and started panting. Wow, great sign! This looks promising!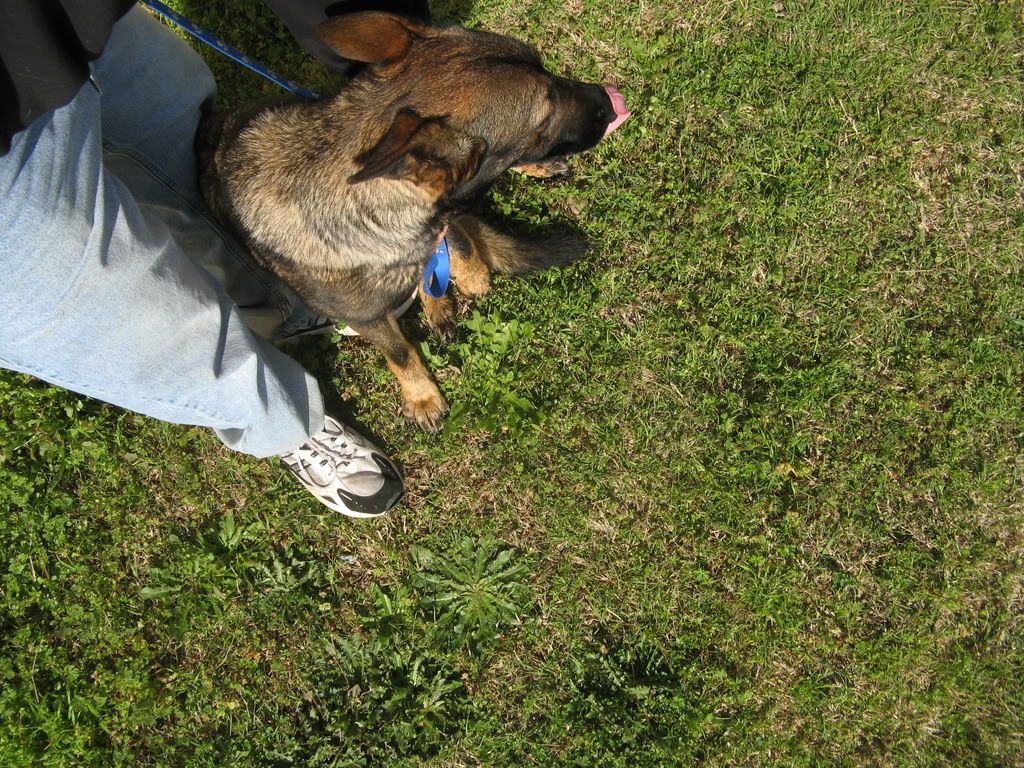 While she was sitting pleasently, I swapped my 4ft lead for the 30ft lead. I pulled my left foot out from under her rump and stepped away. She turned her back to me and walked out a little ways for a quick pee break and to sniff around a bit.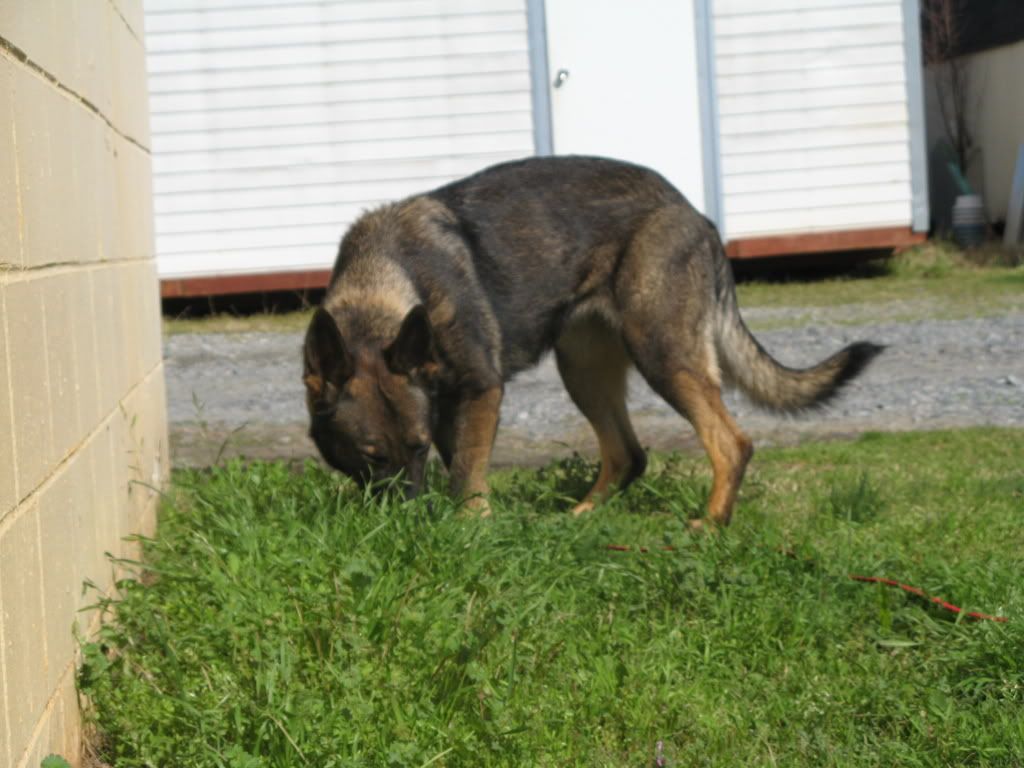 While she was doing her business I sat down on the ground and went through my pack for some toys to test her with. I looked up from my backpack and her she comes trotting over to me. As she approached her ears were back, her mouth was open, and her tail was swishing side to side. So I opened my arms and welcomed her in. She plopped down right next to me.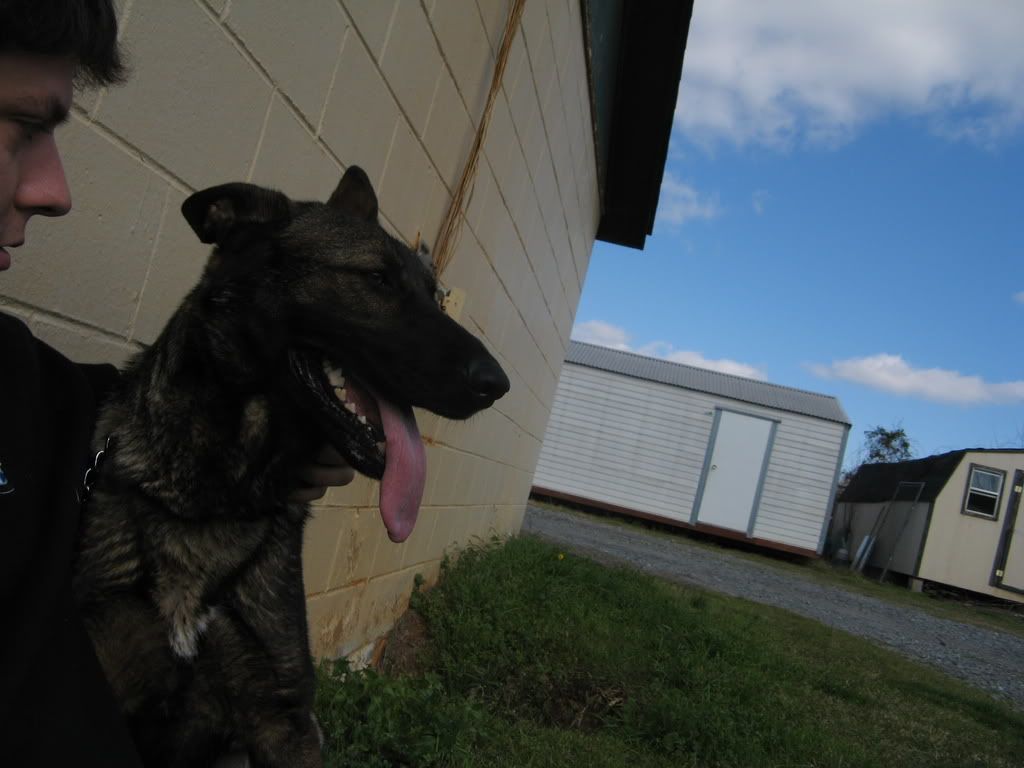 Just checking her out.
http://s74.photobucket.com/albums/i246/b...nt=MVI_0676.flv
I stuck my hand back in the pack and grabbed a tennis ball. Her whole demeaner changed from calm and relaxed to very excited. I held the ball out and she took it right away and then went pouncing off, chewing it like a piece of meat.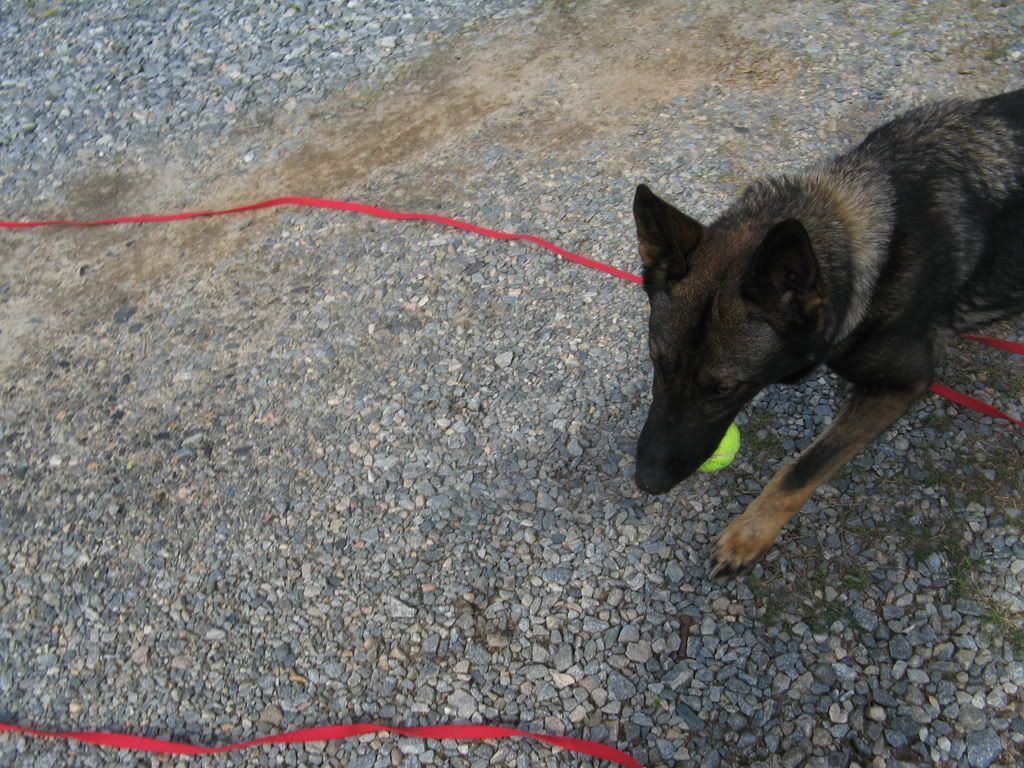 I wasn't quite ready for her to get fired up so I took the ball back for a few minutes and continued watching her...she never got more than a few feet away from me and constantly watched me for instruction...or to throw the ball. lol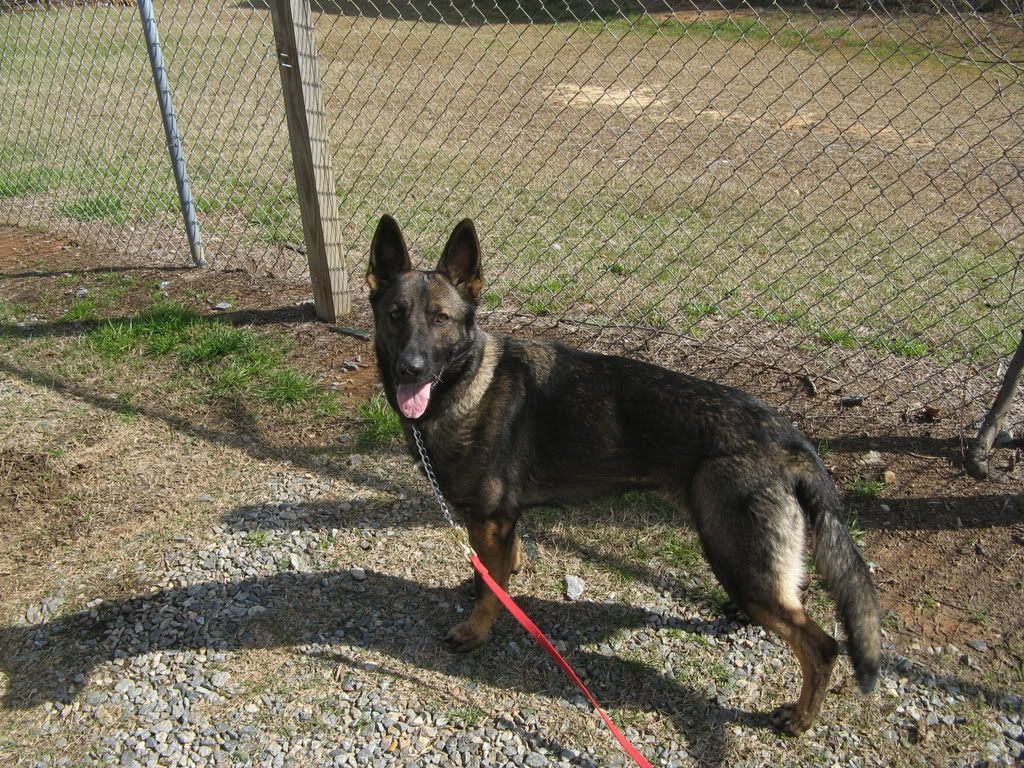 *sigh* I realized that she wasn't going to show me anything out of the ordinary so I got the ball back out of my pocket. Look at that focus!
Aaaaaaand GOOOOOO!!!!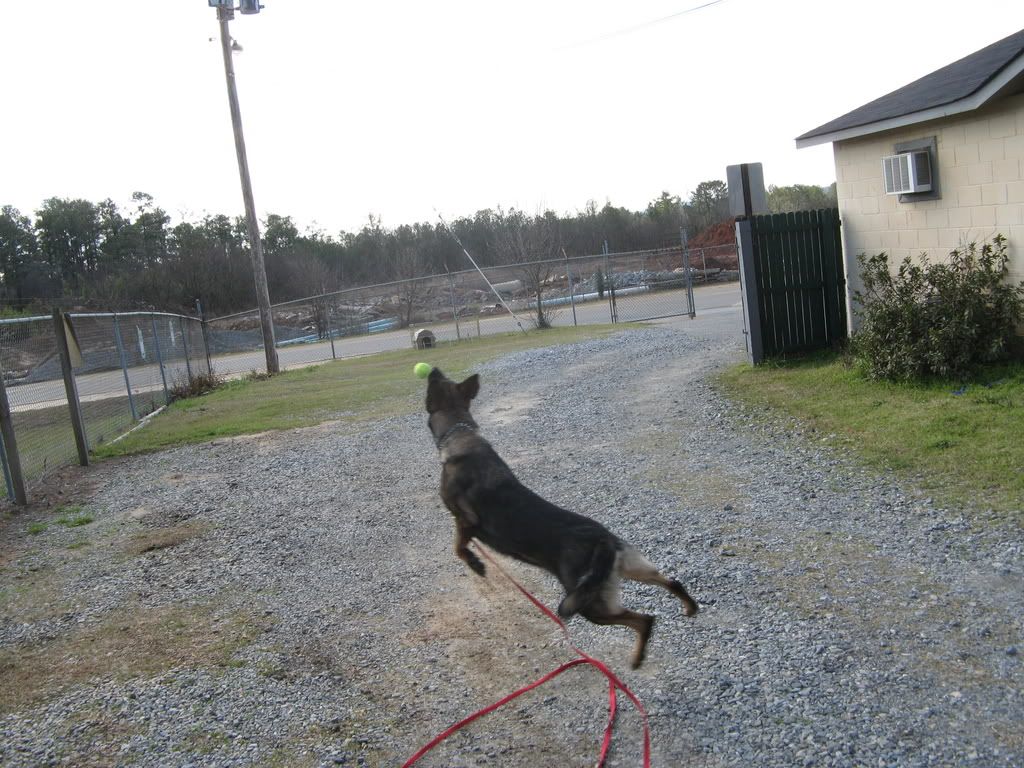 This one hit her square in the chin...I'm sure she was just out of practice! hhahaha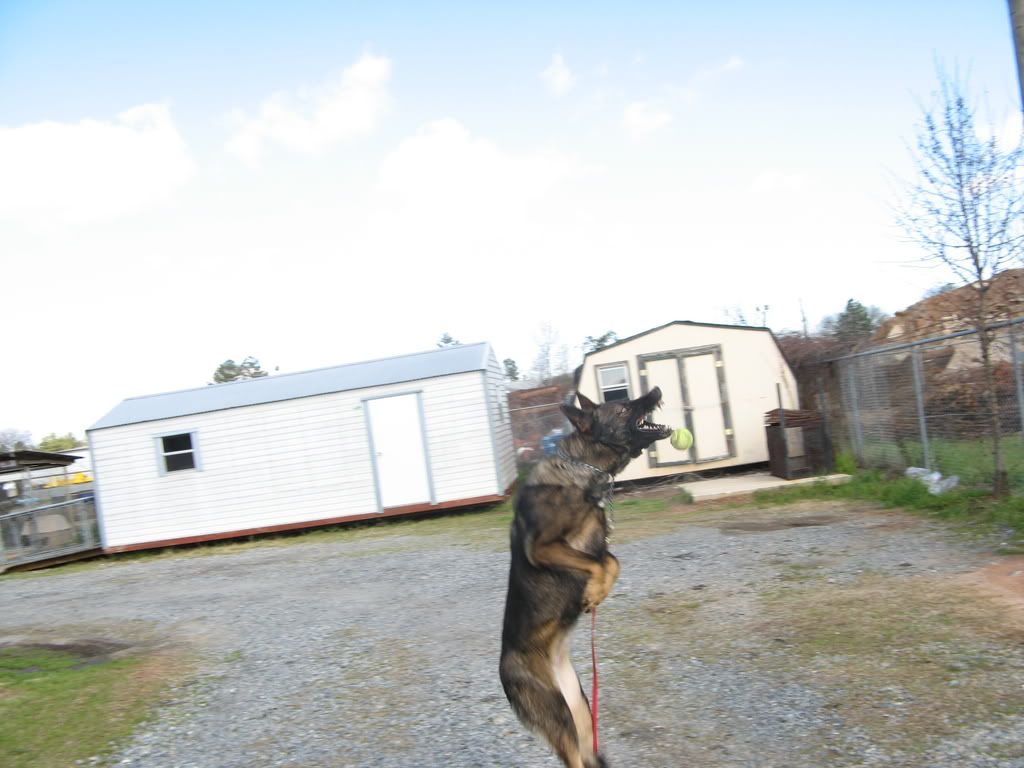 Here's a couple of tennis videos!
http://s74.photobucket.com/albums/i246/b...nt=MVI_0696.flv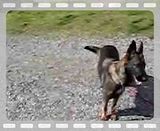 Second one
http://s74.photobucket.com/albums/i246/b...nt=MVI_0702.flv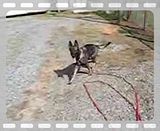 Here's the ball after just a few throws. guh....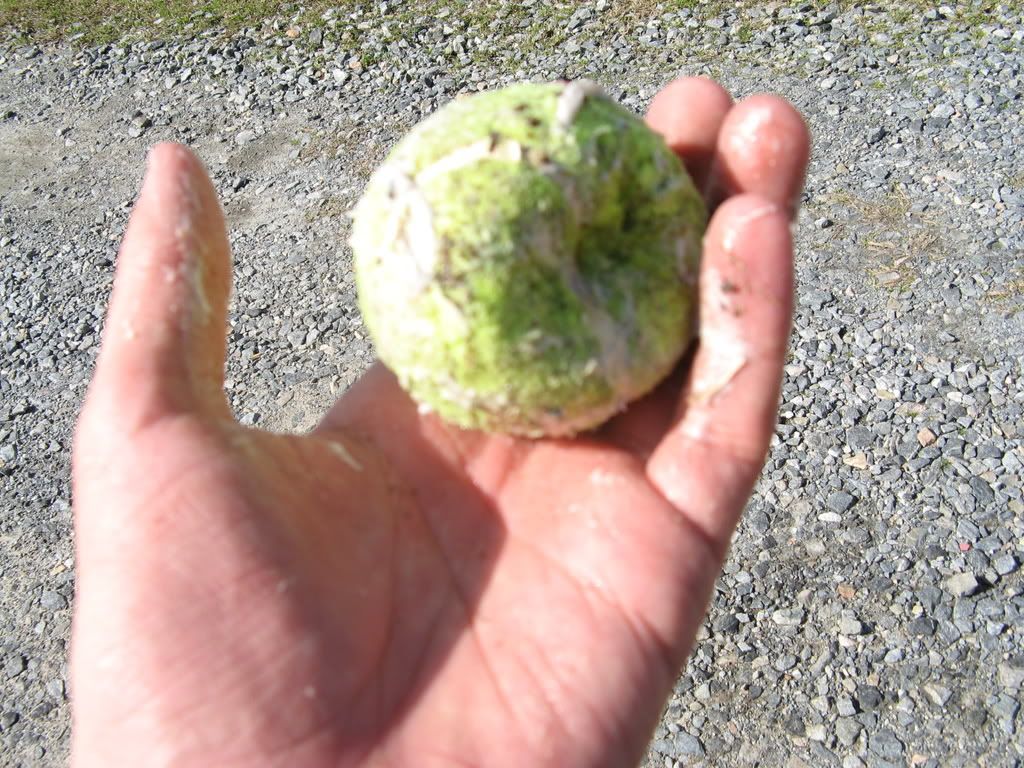 Since the ball was already mush, might as well keep playing. heehee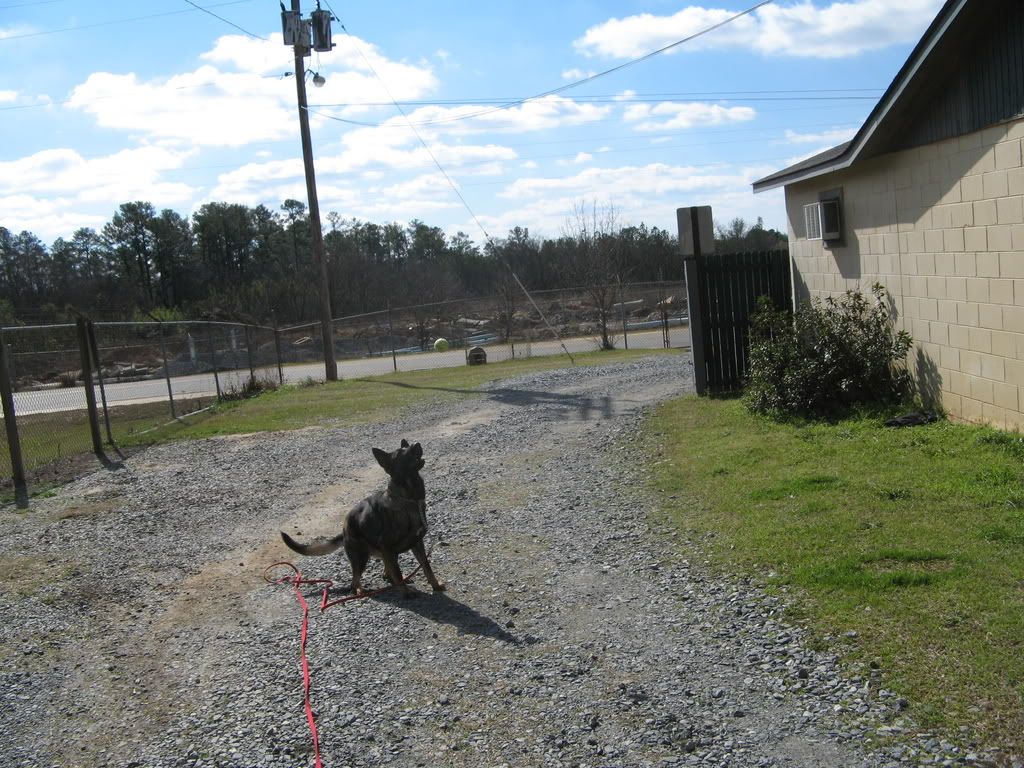 She carried that ball the whole entire time I was with her.
Great look of satisfaction.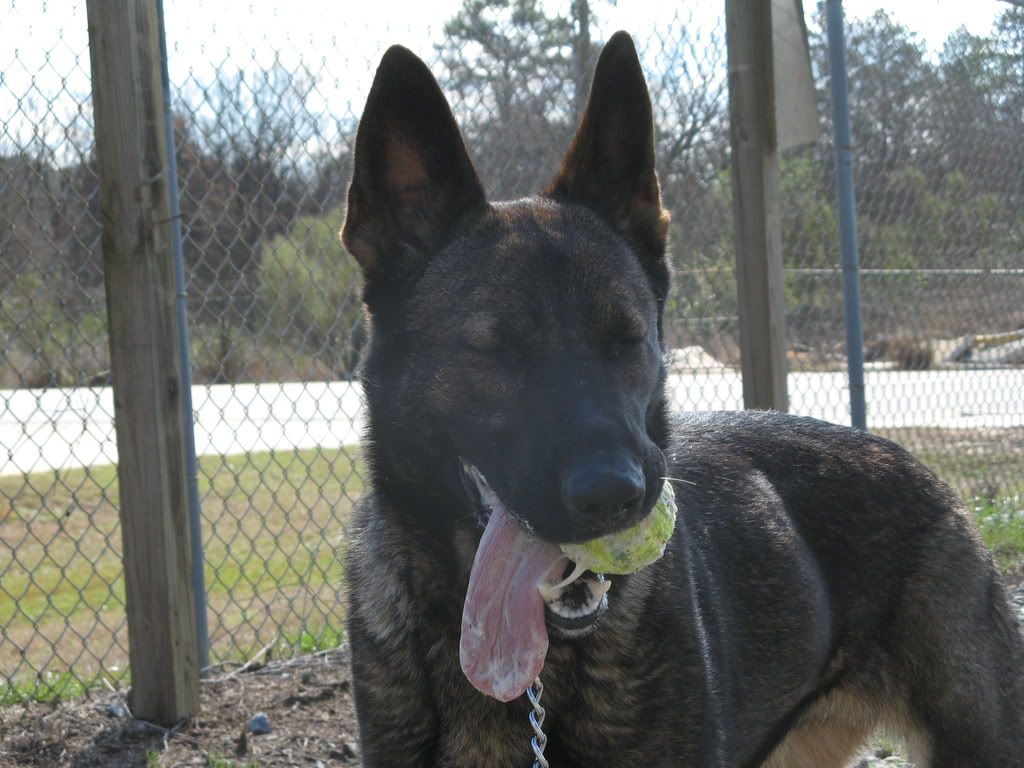 I pulled out my bag of beef jerky to see how responsive she was to treats. She sat on the first request. This dog, with her high drive, would be very, very trainable. Excellent intense reaction to the food and the ball.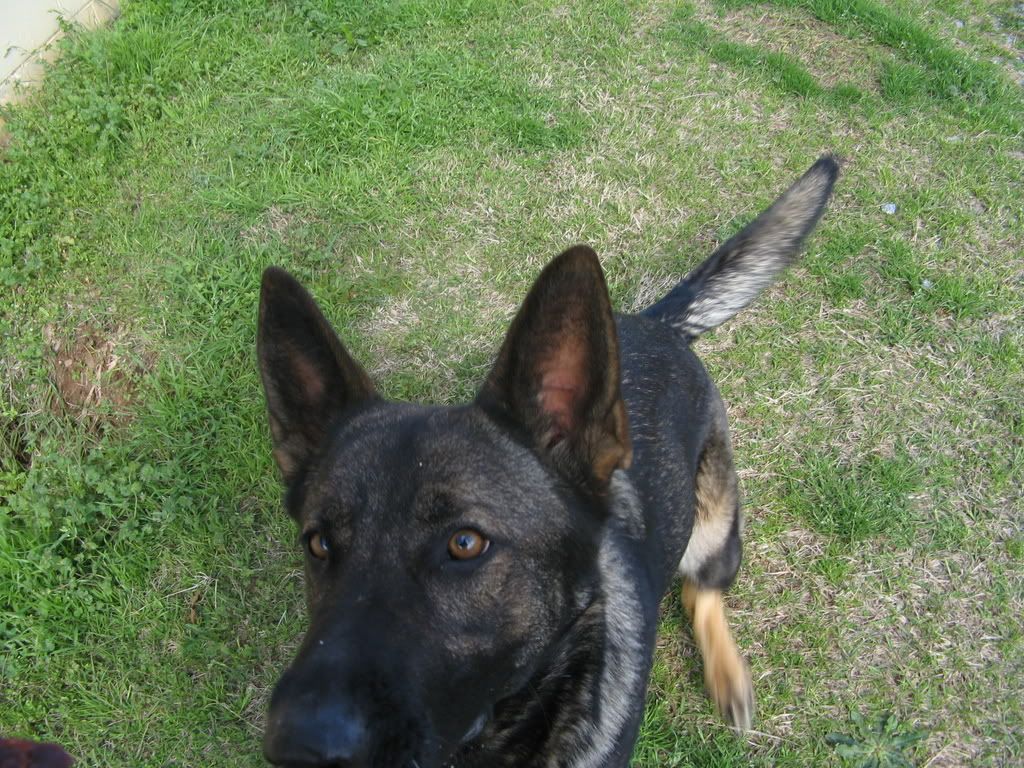 She is not hand shy at all. I also touched all four feet, spread her paws, touched her tail, ears, etc and never had a negetive reaction. Her expression never changed.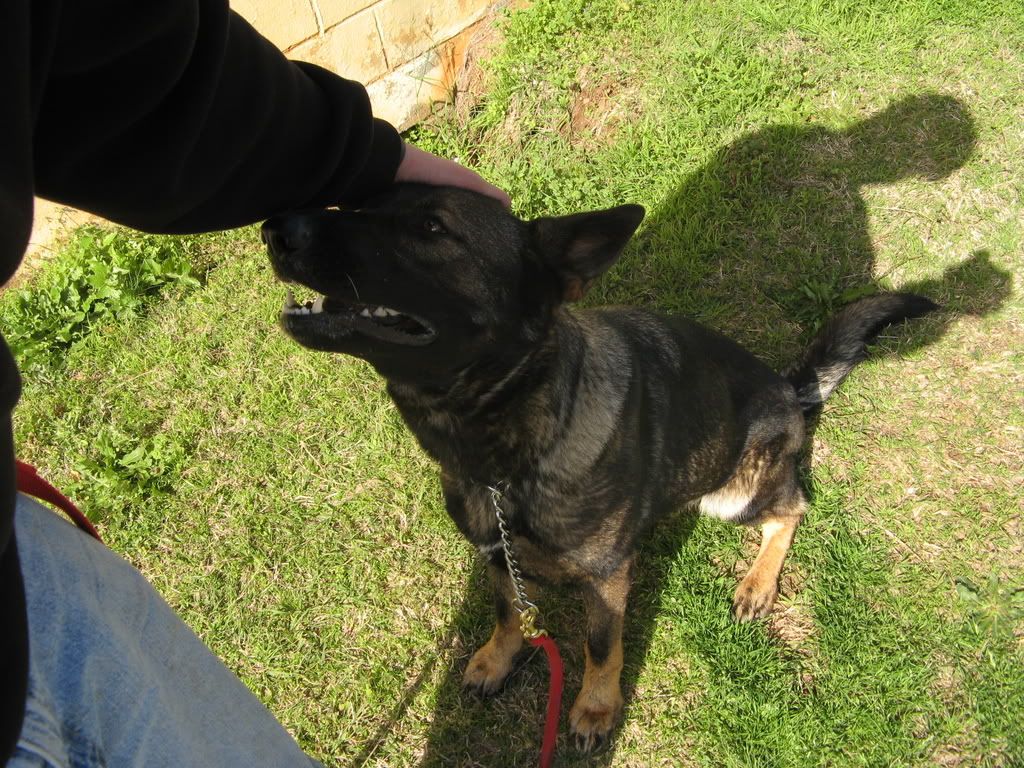 Since she was being such a good girl, I sat back down on the ground with her to give her some affection. Instead of sitting next to me like I hoped, she plopped right on top of me.
I was curious how mouthy she could be so I put some jerky in my hand and closed it into a fist. "I know there's food in there!"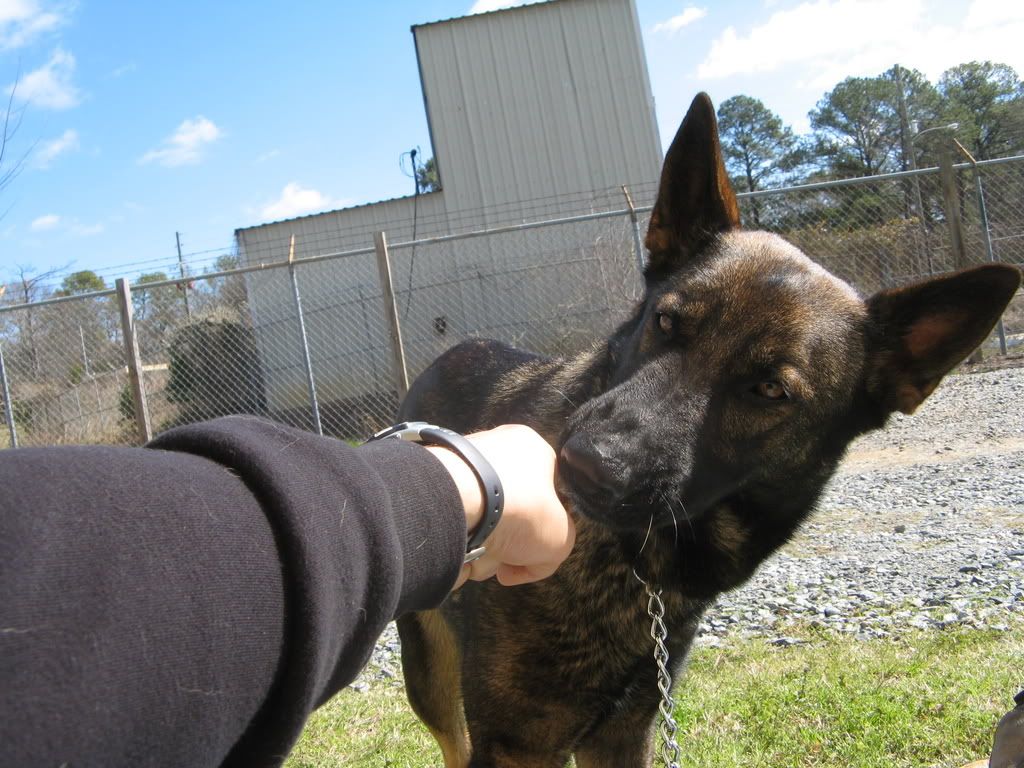 Quite a set of chompers on that dog! She never did clamp down on my hand trying to get the food, although she does look quite vicious in this picture! hahaha.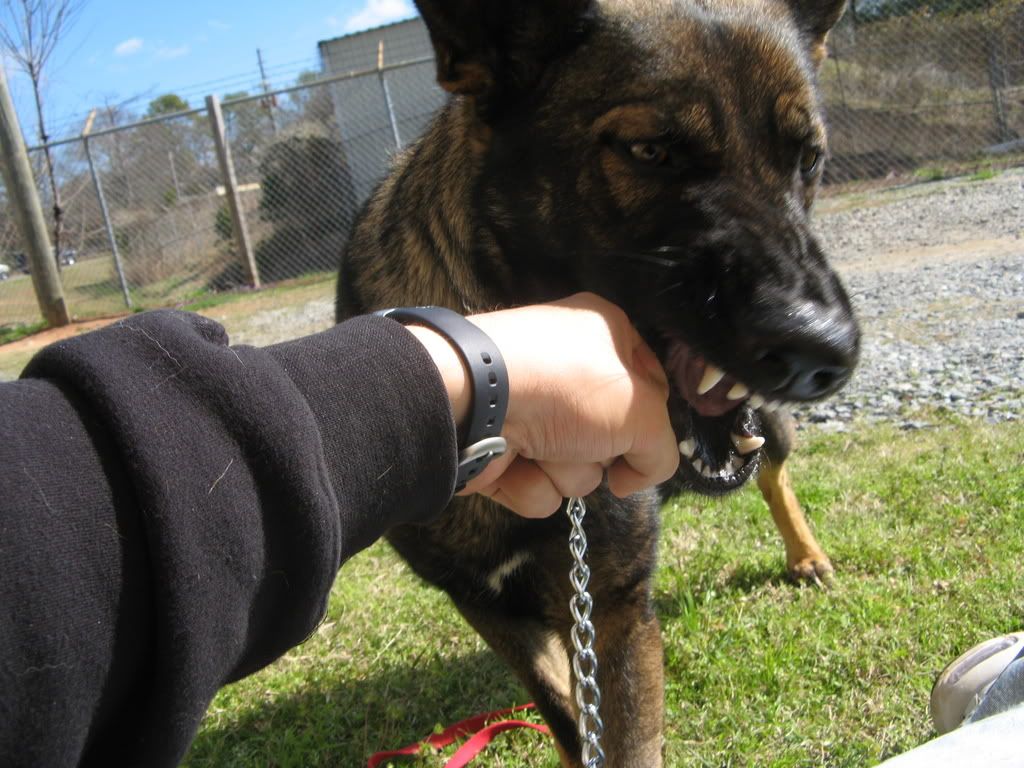 Here's her kennel info.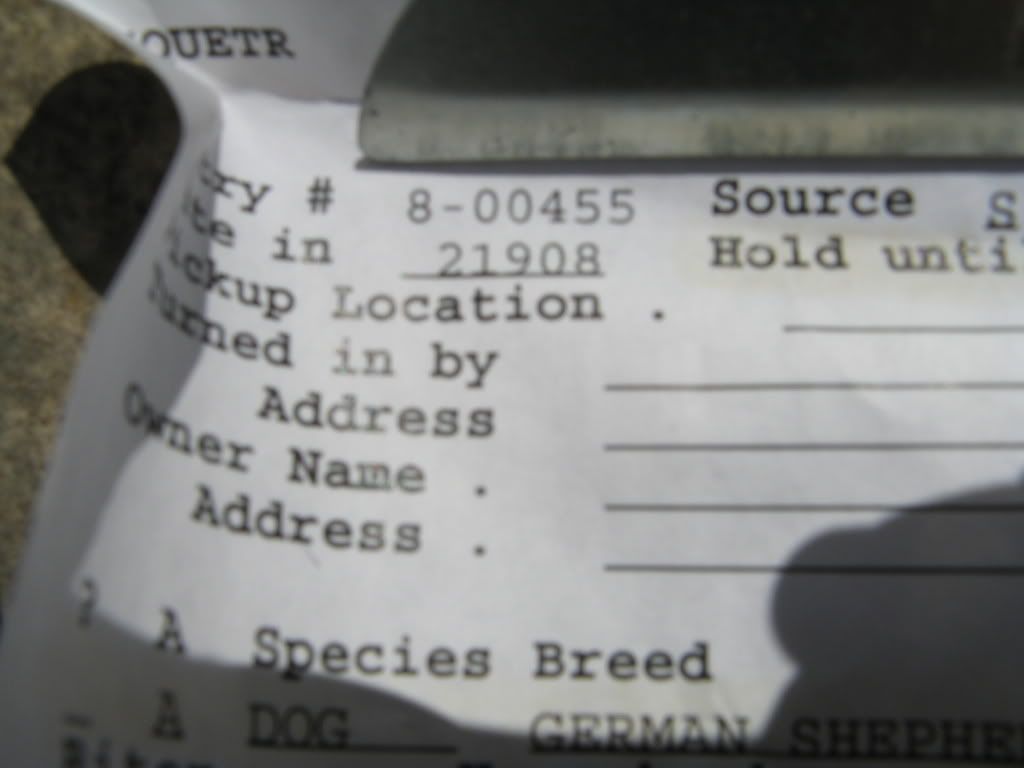 Notes:
Very high prey drive (good for training, but not for small kids)
Higher than average pack drive
Lower than average defensive drive
Loves toys and is very responsive to treats. Very friendly towards strangers and not handler shy at all. Gets along fine with the dogs around her, although the other dog I evaluated today did make her a little uneasy...but the other dog was a complete basketcase. Would be a great working dog and companion for a family...although older children are preferred. She was fine with any touch, any tone of voice, being brushed, etc. I don't know about cats, but I would be cautious with this dog's level of prey drive.
---
Oh...and I let her keep the ball.