Discussion Starter
·
#1
·
Just a reminder to go along with Rhaya's important reminder!
PLEASE CHECK REFERENCES BEFORE YOU PUT A DOG ON A TRANSPORT!!!
Do you KNOW where your dog is going???
Here is a "heart-warming" story about a "rescuer" who recently saved a deaf Great Dane. In her own words:
"How I got lucky with this boy, I'll never know. I just happened to be glancing at all the Pet Classifieds Listings and saw an add [sic} with four simple words in the entire bio section of the classified - "3 1/2 y/o White Dane DEAF". I guess it was my calling. I contacted the owner Friday morning and picked him up yesterday afternoon. Another successful rescued pup! Now, I just hope to meet up with the rest of you that have deaf dopey danes! He's a gem, just not so good on his feet, as he's still clumsey [sic]."
Best Wishes, Jennie & Apollo
Here is a photo she posted of her new baby: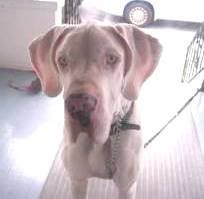 Two weeks later, here is a picture of the same dog at the kill shelter where he was dumped by his "rescuer". (This boy has been pulled and is safe.)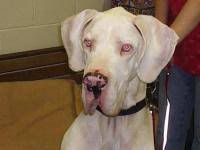 As it turns out, Jennie is a 16 year old girl. And her name isn't even "Jennie". She has been trawling the internet looking for all kinds of animals from owner surrenders, shelters with low pull fees, unsuspecting rescues. She made up an identity and a story and used the internet. Everyone just took her at her word. Apollo is not the only dog she has "adopted" and dumped. Many animals she has obtained were brought to her door by rescue transporters-INCLUDING GERMAN SHEPHERDS off this board. How could this happen? How could a 16 year old obtain dogs and rodents and birds that she has subsequently thrown out like garbage? Easy. No one checked her references. No one asked her for an application. No one checked. Please think about where you are sending the animals you rescue - they depend on you.
How many others that we don't know about have met this same fate or worse?
PLEASE CHECK REFERENCES AT THE VERY LEAST BEFORE YOU PUT A DOG ON A TRANSPORT!!!