Discussion Starter
•
#1
•
Some of you may remember that about 5-6 months ago I had trouble with my boys fighting. After asking this community we heard a lot about how we shouldn't have gotten litter mates, shouldn't be using the laser with them, feeding them too much protein, and a lot of other great information. We couldn't just give up because they where litter mates so we tried what we could. We got one of them neutered (we don't like to neuter our dogs, so we figure do one first and see how that works out), and that tamed things down enough for us to gather what we need to do and start implementing plans.
When they where fighting and before Shadow got neutered, we just separated them 24/7. They could see each other as they where in the same place but they couldn't get to each other, and they each had a place they could hide if they didn't want to be seen by the other. Of course this wasn't a long term solution, so we got Shadow neutered after about a month of that. There was still a lot of tension for the next month, but we slowly got them together, maybe 5 minutes one day, 10 minutes the next, etc. etc. We then started feeling comfortable with them together, so they where together again with no barriers. For the most part there was no issues, we had a couple hiccups but it worked out. This was all with us watching them though, ideally we would always be around, but what if we weren't? I started leaving them outside while keeping an eye on them through the window and they played great.
One of the coolest but not so cool moments was about a month ago Shadow had a seizure. Obviously that's not too cool (still not sure what cause it or if he's genetically prone to it like our lab), but Dargun stood by his side and made sure he was protected. It was pretty cool to see one brother protect another.
Now today we have no doubt in our mind that if we absolutely had to, we could leave the dogs alone for an extended period of time (24 hours, say if someone got injured and it took us out of the house for that long, etc.) that they will be fine. As of today, they are back to being loving brothers, and able to play together :wild:
Shadow is the light one, and Dargun is the dark one.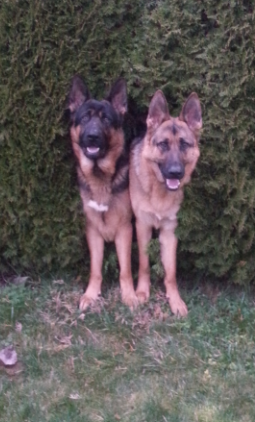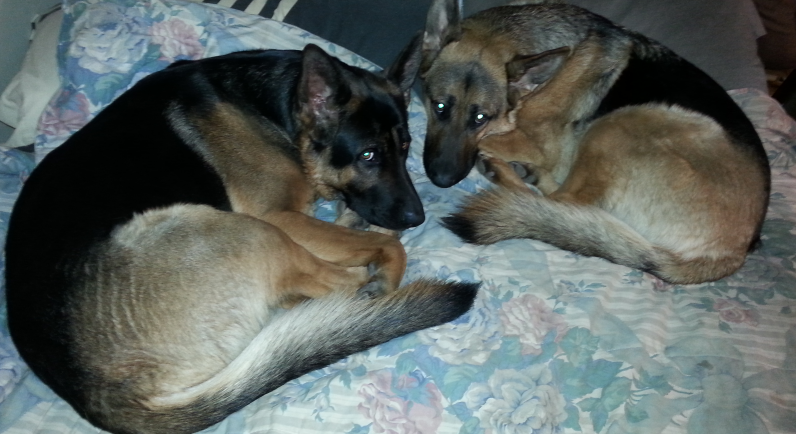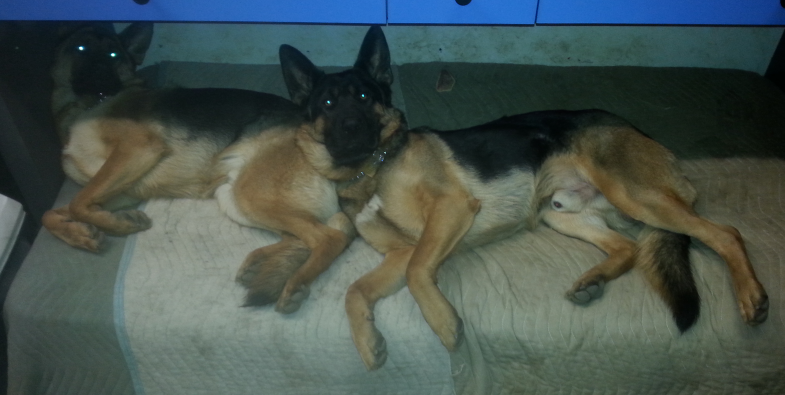 Now they are almost 2 years old and about 90 lbs. My extended cab pickup just can't handle two GSD's lol, let alone one. Next year I'm buying a car, or maybe selling my current truck and getting a crew cab. We have a '94 Ford aerostar that any more is just the dog transporter lol. Does anyone have a 4 door truck (F-150, 250, 350, Ford, Chevy, or Dodge), or even a Dodge Megacab? Is your dog comfortable in it? Do you think two dog would be comfortable in it? I'd be taking them a max of 20 miles in that, if we're going on vacation we'd put them in the van. The other vehicle I'm looking at is a Ford Focus hatchback, do you think 2 GSD's would fit comfortable in one of those? Again, not for a long road trip, but it'd be nice if they could lol.