Discussion Starter
·
#1
·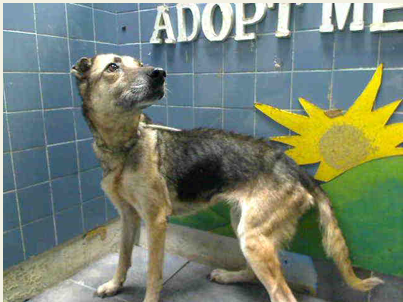 SAMANTHA - ID#A876699
I am an unaltered female, brown and black German Shepherd Dog mix.
The shelter staff think I am about 8 years old.
I have been at the shelter since Sep 23, 2010.
This information is 1 hour old.
Back​
For more information about this animal, call:
Animal Care and Control of New York City - Brooklyn
at (212) 788-4000
Ask for information about animal ID number A876699
---------------------------------------
Looks pb, ears either cropped or 'cauliflower' from untreated ear infections.
CACC requires rescue organizations to be approved before pulling.
New York Animal Care&Control ( AC&C )- the largest pet adoption organization in New York City. Dogs, cats, puppies, kittens and rabbits available for adoption in NYC, Manhattan, Brooklyn, Queens, Bronx and Staten Island.
To my knowledge, CACC provides the following information on a dog:
All animals are seen by a vet at intake, and put up for adoption only if they have no signs of contagious or untreatable disease. They also do a basic 'temperament test' at intake, and only put up dogs for adoption that are rated 'no concern' or 'moderate'. How an animal handles during the vet exam is part of the behavior assessment. Cat and dog testing is possible at CACC.