Discussion Starter
·
#1
·
I was reading the Gaston dogs thread and lots of times we see these dogs in rescue who just make you gasp they look so awful. Ones where you see the picture and have the thought that you would A. like to slit someone's throat who let them get like that and B. make you cry to think of their suffering.
Then a month or so later...you see those same eyes peering out with great mischief and happiness and cannot believe it is the same dog.
I think we need some hope and a place to go for it when we think, well this is the end of the line.
Maybe it will be a short time for some dogs-but...what if? These are those dogs-for however long.
So if you have a picture of a before and an after-one post per dog (multiple dogs-just put them on new posts so the impact is there-every dog deserves their day and their own post) please do post it here! And try to pick your *best* one picture for each before and after.
Dogs that didn't look like they'd have a great life-
Katarina-Before-HW+ and malnourished: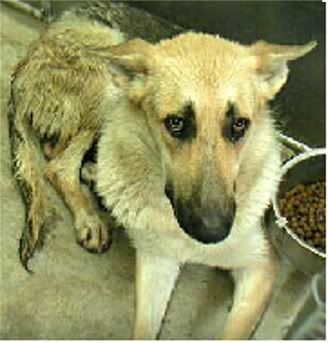 Katarina-After-HW free and now living as a cheese head in WI: