Discussion Starter
·
#1
·
And of course we threw her a party!
Okay, so her birthday is on the 11th, but I went home last weekend for the weekend and I convinced hubby to hold a party and invite all her doggy friends. In all we had 3 German shepherds (Athena, Detroit, and Qwando), a golden retriever (Reiley) and a yorkie mix (Coco). Detroit and Qwando are 6 months old (litter mates), Reiley is 1.5 yrs old and Coco is 4, so basically, we had 5 puppies in our apartment. People thought we were crazy, but it was a blast and we only had a few minor scuffles. Here are the pictures:
The birthday girl:
Athena eating her birthday cake (peanut butter, carrots, honey and flour with a yogurt and peanut butter frosting on top. Made especially for the dogs, but hubby had a piece too):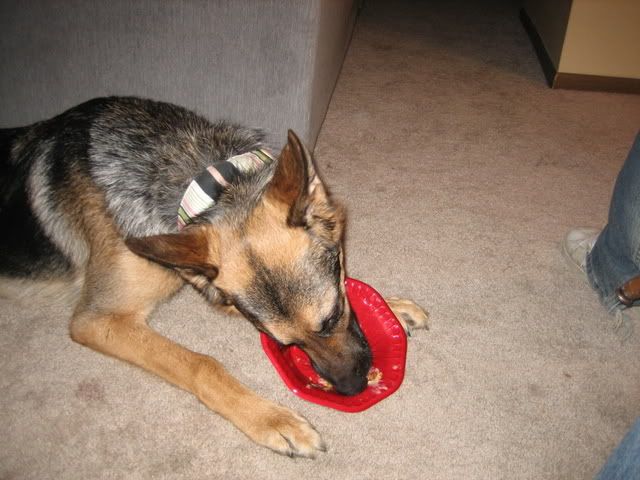 Qwando, Reiley and Athena:
All dogs minus Coco:
All dogs including Coco:
The dogs having a blast:
I am really surprised at how well it all went. I expected to have to break up more fights, but all the dogs played well and none got toy aggressive or treat aggressive all though we lost a few stuffies and gave out quite a few treats. We did attempt to prevent any fights though with the cake and had each parent feed it to their own dog.