Discussion Starter
·
#1
·
I frequently say that about 1/2 of 'agility' isn't anything about aglity at all. But is all about the great work we did (or didn't know to do) in our dog's socialization. AGILITY TRIALS ARE NUTS! And I don't know any other dog trial venue that is the same, for the entire day. Tons of dogs, tons of people, shops right beside the ring having the wind blowing the smells of treats/bones/bully sticks right into the ring...... So to ask many of our dogs to focus and 'play' agility with us when they may be VERY uncomfortable in the environment is really asking alot (and why many of us have alot of issues in the ring).
So at the trial this weekend I actually remembered to bring my camera to show some of what I mean.
This photo shows just part of one row of our crating/tent area. We are all trying to stay in the shade of the trees. There is a road right behind us (nice for loading/unloading) so cars are driving by constantly, and parking and loading/unloading. The agility rings are off to the right on the other side of the tents.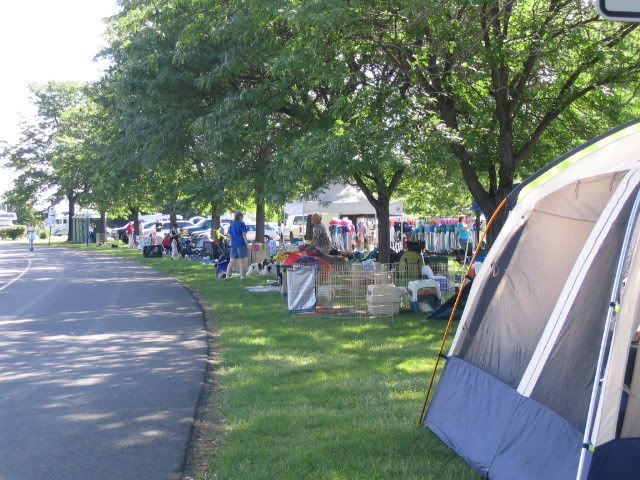 This photos shows the normal coming and going around the trial site. These tents are the vendor tents with all the yummy treats/smells and toys. So this is a normal moment of people/dogs walking around (how many dogs can you count in the photo?). Note the orange fencing on the left side.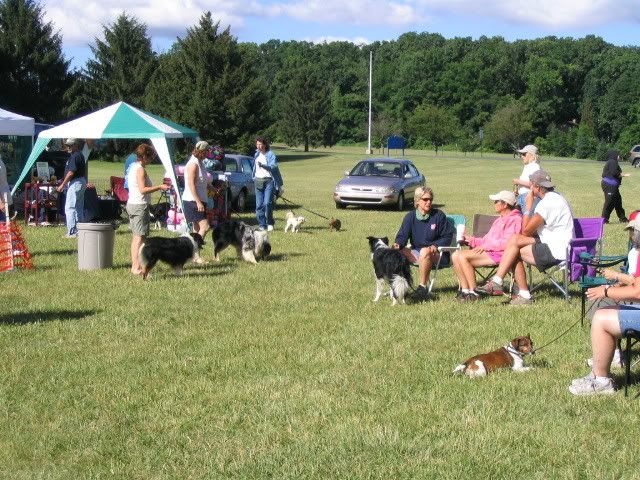 This is showing the same line of vendor tents along both show rings. So you can see how all of us walking around are right next to the dog running in the ring. And there IS a dog in the ring!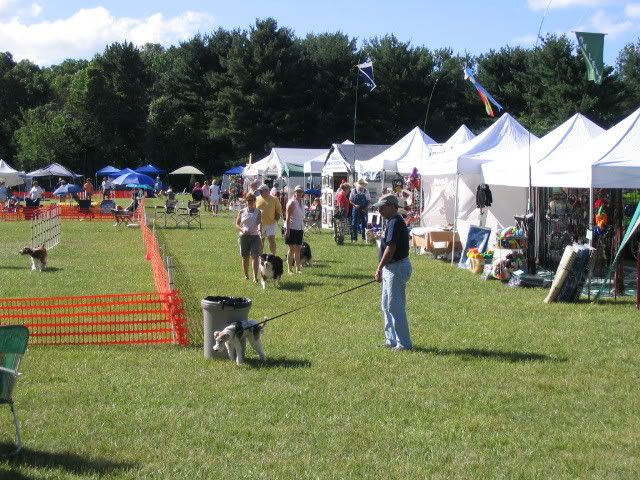 Next 2 photos are a normal shot of us waiting our turn to go in the ring. When it's sunny we tend to huddle with our dogs in the shade tent to help keep them as cool as we can. Even with a short leash ( I NEVER use even a regular 6' leash, only a 4') the dogs are right with each other. Can you see the Bearded Collie sniffing the BC's behind in the one shot. THIS is normal (we try to minimize it, but it's going to happen).