Discussion Starter
•
#1
•
Hello all! This is my first post finally after doing sooooo much research my brain hurts! My family and I have recently adopted a little boy by the name of Lakota. He is a white GSD. We've had him for 1 week so he is now 9 wks old. He is extremely smart (as all of you know with your own babies). We are still in the midst of crate training and he has finally gotten to the point where he stops crying/screaming after about 5-10 minutes. He is still having some potty issues but that is to be expected. He has 3 meals a day. He's not a real big eater right now. He has already learned sit, stay, come and down (obviously is not perfect at it yet). We do 10 minute sessions with him about 3 times a day w/ high value treats. He's quite calm......when I'm next to him. THAT'S my problem. If I move anywhere from his site he screams. As soon as I move he is right under my feet. He is literally my shadow. He doesn't do this with anyone else in the house. We recently lost our rescue boxer, Sadie Mae. She had SEVERE separation anxiety. We went through 2 couches, a chase lounge, about 40 sets of blinds, a full room of carpet down to the concrete, doors, door and window molding, cabinets and when we crated her she would try to eat her paws off! She broke all 4 canines and ended up breaking her jaw in the crate. After many visits to the vet she was eventually put on clomipramine which worked wonders for her. She died this year from a rattlesnake bite. She is sooooo missed. THIS is what I'm so scared of w/ Lakota. I'm afraid he's going to end up w/ separation anxiety when away from me. I am a stay at home mom so I'm always here w/ him (and our other fur kids). During the day for his naps I put him in his crate so he has time away from me. We are socializing him w/ everything you guys have suggested and will continue to do so. Is it normal for him to be this way with me? If my husband is holding him and I leave the room to go in to the kitchen he goes nuts! I never pay any attention to him when he's acting out.
I completely ignore him until he is calm. Not even eye contact. I just don't want to go through with him what we went through w/ Sadie Mae. All my fur kids are rescues that came from abuse cases except Lakota. So I feel we have the perfect opportunity to mold a wonderful dog because he has no abusive past or issues to deal with. Am I doing something wrong with him? Is this normal? Can I do more? I am truly scared (and probobly over reacting).
I know GSD's are known to be velcro dogs but I just don't want this to end up being a major behavior issue. Help me please. Thank you so very much in advance!
Here are a few pic of Lakota.
Lakota at 8 weeks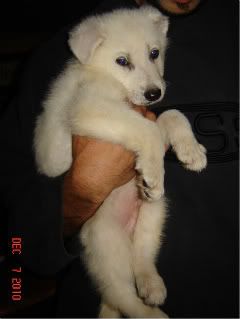 8 weeks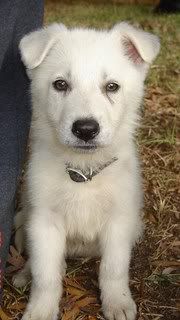 9 weeks