Discussion Starter
·
#1
·
I noticed someone else on here had an aquarium up for sale so I figured I'd give it a shot as well as I really don't want to go through eBay or AquaBid and the people on Craigslist never seem to get back to you.
I took down one of my 80 gallons yesterday. It was really nice but with my other aquariums it was just to much to deal with to only have a few Cherry Barbs and Platys in there. (I had two Pleco's as well but they've both been placed into two of my other large tanks.) So I set up a little tank for them and right now my 80 gallon is sitting there 1/3rd of the way full and well...Only thing left is pipes from the filter.
For $100 you get the tank and silver hood. For $300 I'll give you the tank, silver hood, stand, lights and toss in a 200W heater which alone I paid $40 for.
You can use any filter system you'd like on this tank. (The back of the stand is open for under-the-tank filters which is awesome if you're a canister filter type of person which I've actually become. Lol!) The silver top even has an open area in the back to fit over flow filters.
It's been an awesome tank and a real conversation starter. Aquariums can be good for releaving stress and are very peaceful!
In the living room. (With a -few- of my other tanks. xD)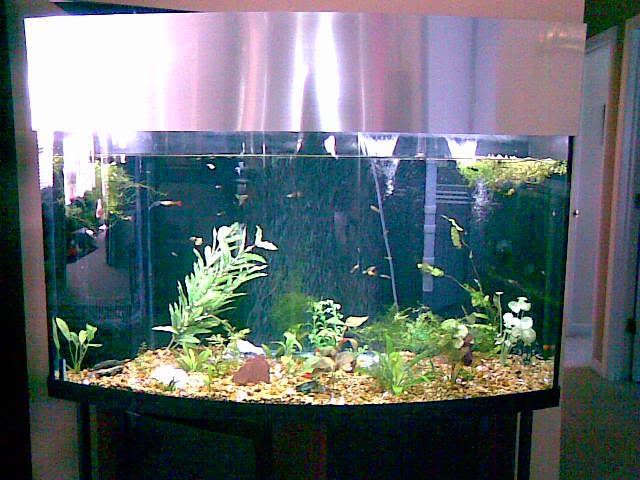 Up close.
Message me if you're interested/have questions!