Jinks gets OFA Prelims!
---
The vet said his hips and elbows look very good! She did not think they'd come back "excellent," but thinks there's a very good chance they'll come back "good." Let me know what you guys think... Thanks!
I'm pretty happy with the positioning. They stretched him out straight and took an xray, but he looked all twisty. So they adjusted and took another. I guess my boy is a little twisted! LOL! (I have not posted the photo of the poorly positioned one).
Jinks is 13 months old. I got the prelims because 1) he was already under for his sterilization, and 2) I need to know the state of his joints for dog sports.
Here's a crop of the hips: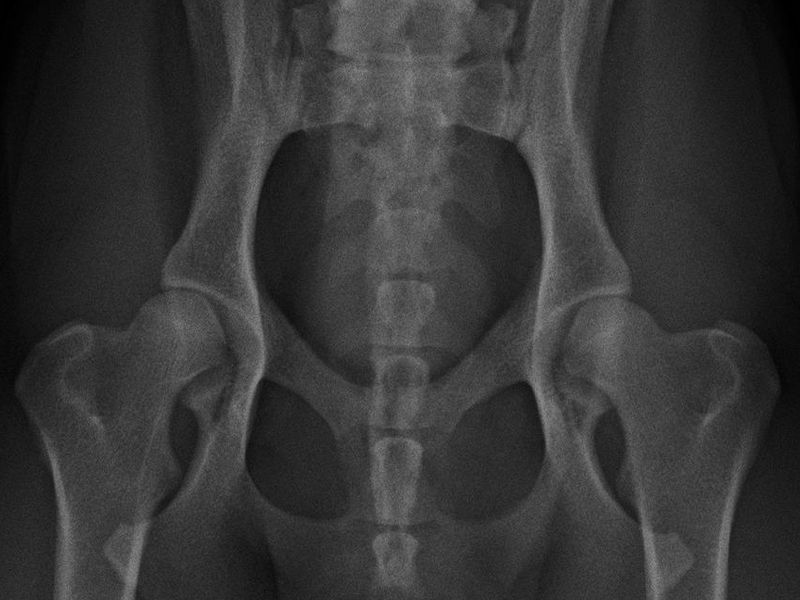 ---
Willy
RATCHX3 High Jinks vom Neuanfang - Gotchya Day: 1/23/2013 DN, SG, SR, CA
Inspire Spark to Ignition! (Ignite) Gotchya Day: 10/8/2016
C-ATCH Pimg - RATO, UJJ (x2), DJX, HIT, CA, CGC, High in Games, Reserve High in Standard- CPE Nationals 2014
Congrats! How's Pimg doing???
---
Diane
Ozzie vom Kleinen Hain
Danger Danger vom Kleinen Hain aka Masi
Tranquillo's Kizzy
Jakoda's Kholee
"Angel" Jakoda's Bewitchen Sami CD OA OAJ OAC NGC OJC RS-O GS-N JS-O TT HIC CGC
"Angel" Steinwald's Four x Four CGC HIC TT
"Angel" Harmonyhill's Hy Jynx NA NAJ NAC NJC RS-N JS-N HIC
"Angel" Jakoda's Jagged Edge
Elbows look nice and clean, I'd guess good on the hips.
---
SG S-Hunter vom Geistwasser CA CGN TT ATD (Service Dog, Retired Airport Wildlife Control K9)
Zenna vom Geistwasser NTD


To view links or images in signatures your post count must be 10 or greater. You currently have 0 posts.

Quote:
Originally Posted by JakodaCD OA;[URL="javascript:void(0)"
4349354[/URL]]Congrats! How's Pimg doing???
She's ok but still dealing with bum issues.
---
Willy
RATCHX3 High Jinks vom Neuanfang - Gotchya Day: 1/23/2013 DN, SG, SR, CA
Inspire Spark to Ignition! (Ignite) Gotchya Day: 10/8/2016
C-ATCH Pimg - RATO, UJJ (x2), DJX, HIT, CA, CGC, High in Games, Reserve High in Standard- CPE Nationals 2014